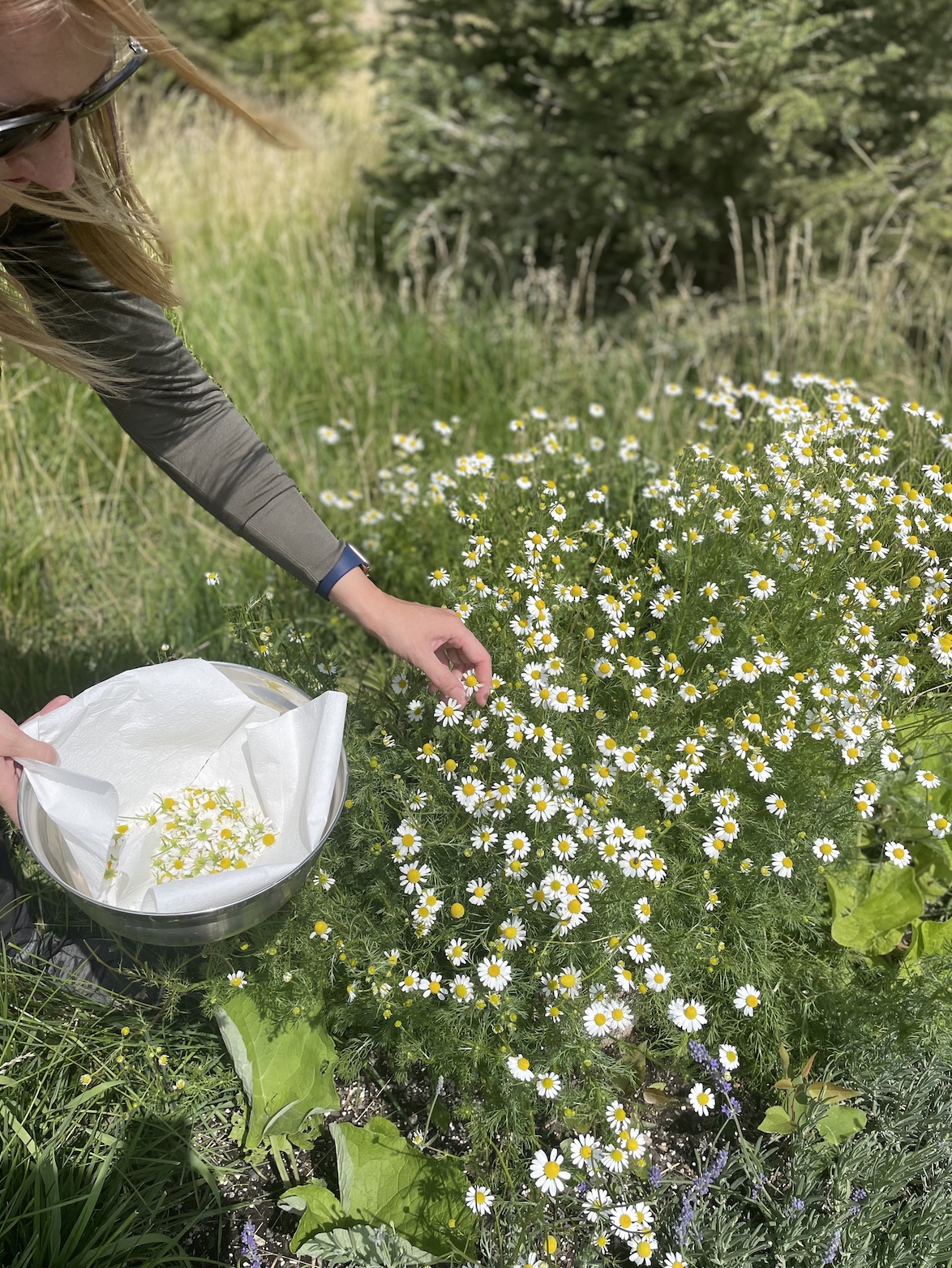 Medical herbalist Julie Levin grew up surrounded by forest near Alaska's Kachemak Bay. Her days involved chopping up dead wood to heat her family's home; preserving fruits and vegetables; and fishing for winter food stores. As she grew older, her curiosity and reverence for nature led to seeking out plants for wilderness survival, and later, a three-year journey through seventeen countries. Along the way, she studied with local masters, from herbalism in Bolivia and Traditional Chinese medicine in Hong Kong to native healing in the Amazon and in South Africa. The culmination of her life's work as a student of Buddhism and plant medicine is wrapped up in her skincare line aptly named Leaf People. Everything (Find Your Flow Serum, Peppermint & Dandelion Body Scrub, Bottle of Sunshine Drinking Vinegar, etc.) is organic, vegan and packaged with recyclable and compostable materials. The plants are cold pressed at Leaf People's private lab in Colorado, and are either farmed on their land; wild harvested by Julie who is permitted to gather using the methods she was taught to "leave no trace"; or purchased from vetted suppliers. —Jane Ratcliffe
What did you learn from your three-year global journey (seventeen countries and five continents) that contributed to founding Leaf People?
During this sojourn, I created opportunities to study botanical medicine all over the world. My herbal experiences blossomed while abroad. I engaged in education ranging from formal schooling to spending months studying ancestral medicine-making with indigenous tribes in rural areas. This provided an incredible latitude in my understanding of herbal medicine and plant spirit medicine, how it impacts one's body for health but also its importance in culture. During a stint in the Amazonian rainforest, while on an extended "plant diet," where each breath is a participation and communication to the botanical world, the idea for Leaf People was born.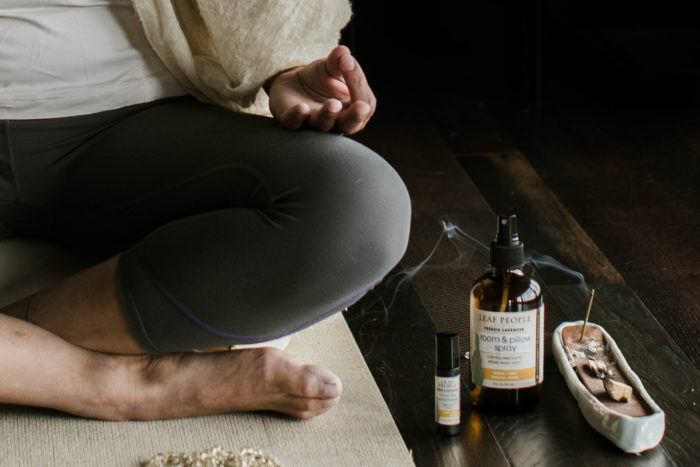 What are the Buddhist medicine-making practices you use?
Buddhist medicine-making practices include immense mind training and training in the interconnectedness of all things. The practices we use at Leaf People are based on the teachings of the Medicine Buddha. They include specific ways of harvesting and handling plants to maintain their energetic integrity, making offerings to increase their potency and benefit to all beings and specific extraction techniques.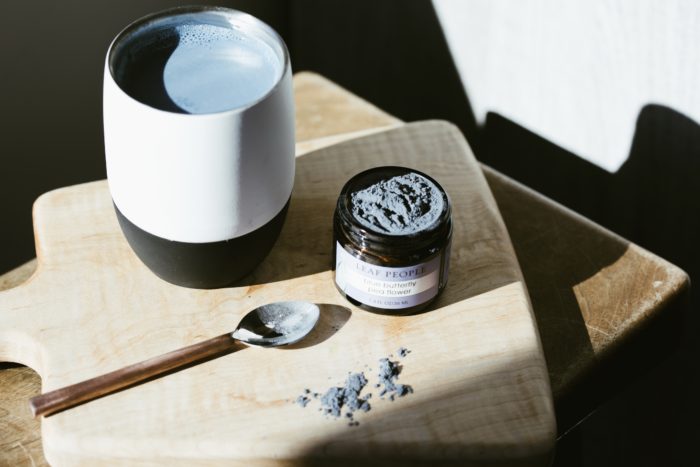 How does your spiritual path influence your product line?
My spiritual practice is a life practice and it influences the quality of the energetic space where our products are made. Since we house our own lab, we have control over the environment which makes the Leaf People lab very unique. Working with a clear mind and an open heart yields a better product and manufacturing Leaf People products is truly seen as a service to the botanical kingdom and humanity vs a job. Everything we do is set with the intention that all beings benefit from our actions, whether that is cleaning up the lab or making and using a finished product.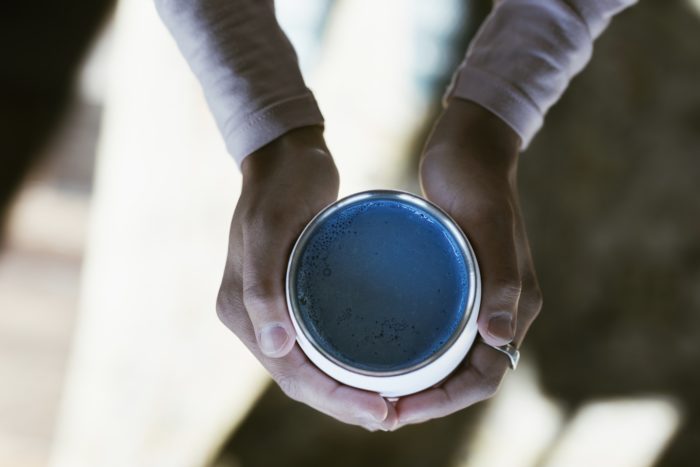 Why switch skincare with the seasons?
We like seasonal switch ups for a few reasons. One, it is a nice way to connect to the natural environment. In-season botanicals, like foods that are in peak season, will bring their best qualities into your daily skincare routine. Another benefit is that certain plants have properties that will help your skin harmonize with the season. For example, we suggest more stimulating plants like neroli, ginkgo and cardamom during the winter months to combat stagnation caused by the cold and we suggest cooling, calming plants like rose, horsetail and cucumber in the summer months when the weather is warmer. We can assist in customizing a regimen for each season based on the weather pattern of that season, potential allergens and pollens, sun exposure and other factors.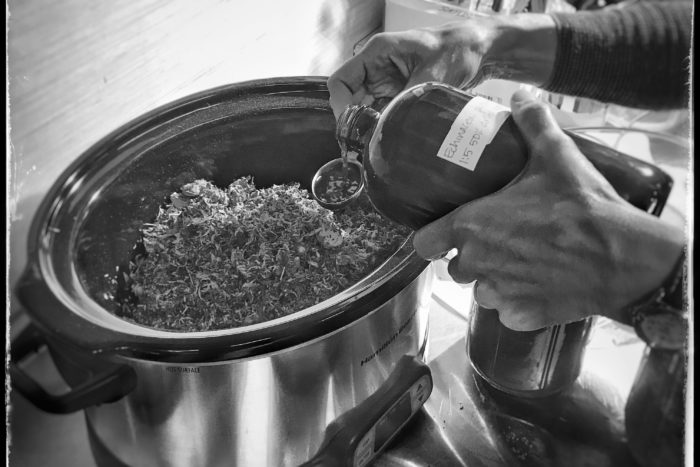 Which plants do you see as our greatest allies for healthy skin?
Horsetail is a powerful botanical we utilize that grows wild and in abundance here. It's a high silica containing plant so it is very supportive to the collagen and elastin fibrils in the skin. In addition to supporting the elasticity of these fibrils, its inherent plant intelligence helps maintain their alignment which results in having smoother appearance in your skin. Another one we love (and grow) is burdock root. It's wonderful for gently detoxifying the skin of internal and external toxins while naturally balancing skin oils leaving your complexion radiant and perfectly hydrated. Lastly, our American grown reishi mushroom provides a beautiful glow on the surface layer of the skin, strengthening the barrier and building resilience against environmental stressors.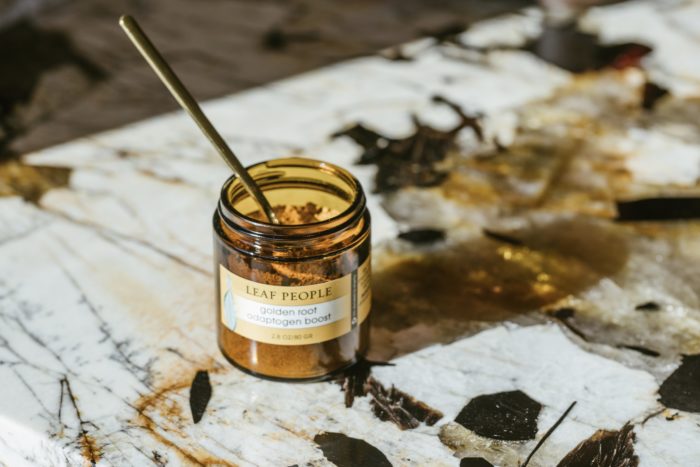 What makes Leaf People unique to the organic skincare market?
We are made in-house by an herbalist who has dedicated her life to the wellbeing of plants and people, and that symbiotic relationship. Formulating from the point of view of an herbalist includes many factors that are overlooked in commercial formulation. Herbal skincare considers the relationship of plants with each other–which plants are allies, which plants regulate other plants, which plants help the plants communicate with each other so they can develop a beneficial hierarchy. It also considers the energetics of the plant–is it warming, cooling, drying, energizing–in order to create a balanced mix. A balanced formula will help bring us into balance, whereas an unbalanced formula can promote our imbalance. I also look at the effectiveness of the chosen botanicals on the skin, which nutrients and other medicinal properties are available, and how to draw them out and into the formula. Peak harvesting cycles are also understood, meaning the desired qualities or components are available during a specific part of the plant's life cycle, so knowing when and what part to harvest is very important.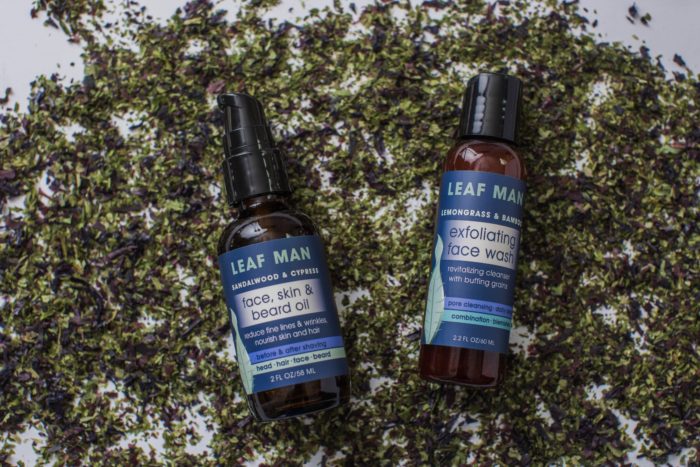 Where are your ingredients sourced from and what is your criteria for choosing suppliers?
Our ingredients are sourced in a variety of places. Since we are located high in the Rocky Mountains, a few ingredients are wild-harvested and we wild-farm many of our botanicals on our land. Plants growing at higher altitudes are a stronger genetic stock and therefore their properties tend to be more concentrated. As "local" is of paramount importance to us, we source in or as close to Colorado as possible, then move outward, depending on where ingredients are available, including the Americas and Europe. We include a few exotics from parts of the world that are tied to my experiences and education. For example, our African ingredient set, where I have spent time over the years, connecting to the region, the land and the people.
When purchasing ingredients, criteria for me includes the quality of the growing region for the plant. Is it clean, organic, good air quality, close to roads or more rural? These factors affect the quality of the plant since their primary job while alive is to detox our environment. I prefer to use botanicals that are from clean areas so they do not have residual environmental toxins in them. I also focus on the availability of the plant now and try to predict that into the future. I do not want to use plants from stressed botanical communities or that are experiencing a reduction in their habitat, and I am conscious of areas that might become stressed in the future.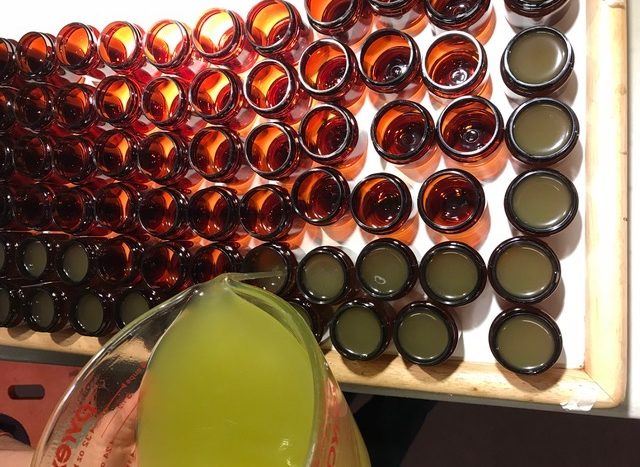 What does your manufacturing process entail?
We work from the whole plant forward, utilizing several extraction techniques depending on what plants we are working with and what elements we want them to release. From there, we blend extracts together with other beautiful raw materials and the final step is scenting with pure essential oils. We handle all aspects of manufacturing in-house from plant to bottle, packaging and shipping.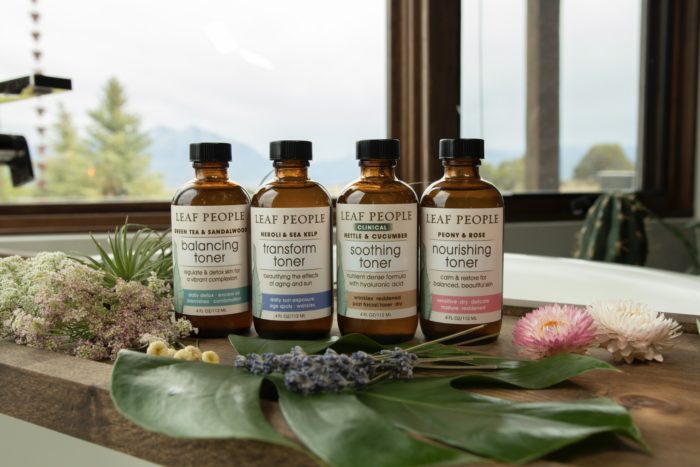 You are the only one authorized to harvest certain herbs. Why?
I have had extensive wild harvesting and wild identification training. I observe traditional Native American and plant spirit medicine harvesting protocols. It takes months of training and practice to achieve the correct mind and energetic state to respectfully pick from the wild and have a true "leave no trace" approach. Due to horrific over-harvesting issues that are happening all over the world, and right here in our beautiful Rocky Mountains, we do not purchase wild harvested botanicals since we cannot be sure how they were taken from the wild. Additionally, I do not discuss protocols, tips, techniques or places to harvest in order to help preserve the plants and their habitat from unintended consequences.
What three products can't you live without?
Stem cell serum, Transform serum, Luminous scrub—all Leaf People, of course!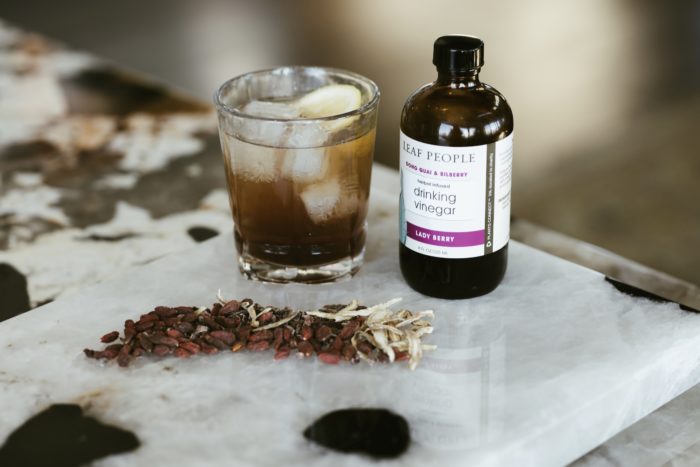 How can we take care of our skin without putting pressure on the environment?
A few areas that skincare products cause environmental stress are the manufacturing process, ingredients and packaging. Choosing manufacturers with a softer approach, who use less chemicals in their processing is important. In some ways, being a small manufacturer, we can clean and maintain our equipment with less water and harmful cleansers than large factories and equipment. As for ingredients, staying with less processed ingredients, avoiding solvent assisted extractions, synthetic or petrochemical-based ingredients is helpful. Also supporting companies that do not use fragrances (pure essential oils are great) will reduce chemical run-off in the environment. And then there is the packaging, as we all know. Where is the packaging sourced? Did it come from overseas? Is it recyclable? Compostable? At Leaf People, our packaging is sourced from the U.S., so we do not have the carbon footprint of it coming from across the ocean; it's recyclable; and our boxes are compostable.
What brings you joy?
A quiet walk, alone, in the forest. The opportunity to tune into the plants and trees and let my soul merge.