DeRossi Global, established in 2006 by Ravi DeRossi, was a successful restaurant group similar to most in the industry—full of animal products and stressed workers. After Ravi experienced an awakening and change of course in his own life, he was determined to make his business reflect what he wanted to see in the world: inclusivity, sustainability, and compassion for all living things. In 2020, DeRossi Global relaunched as Overthrow Hospitality.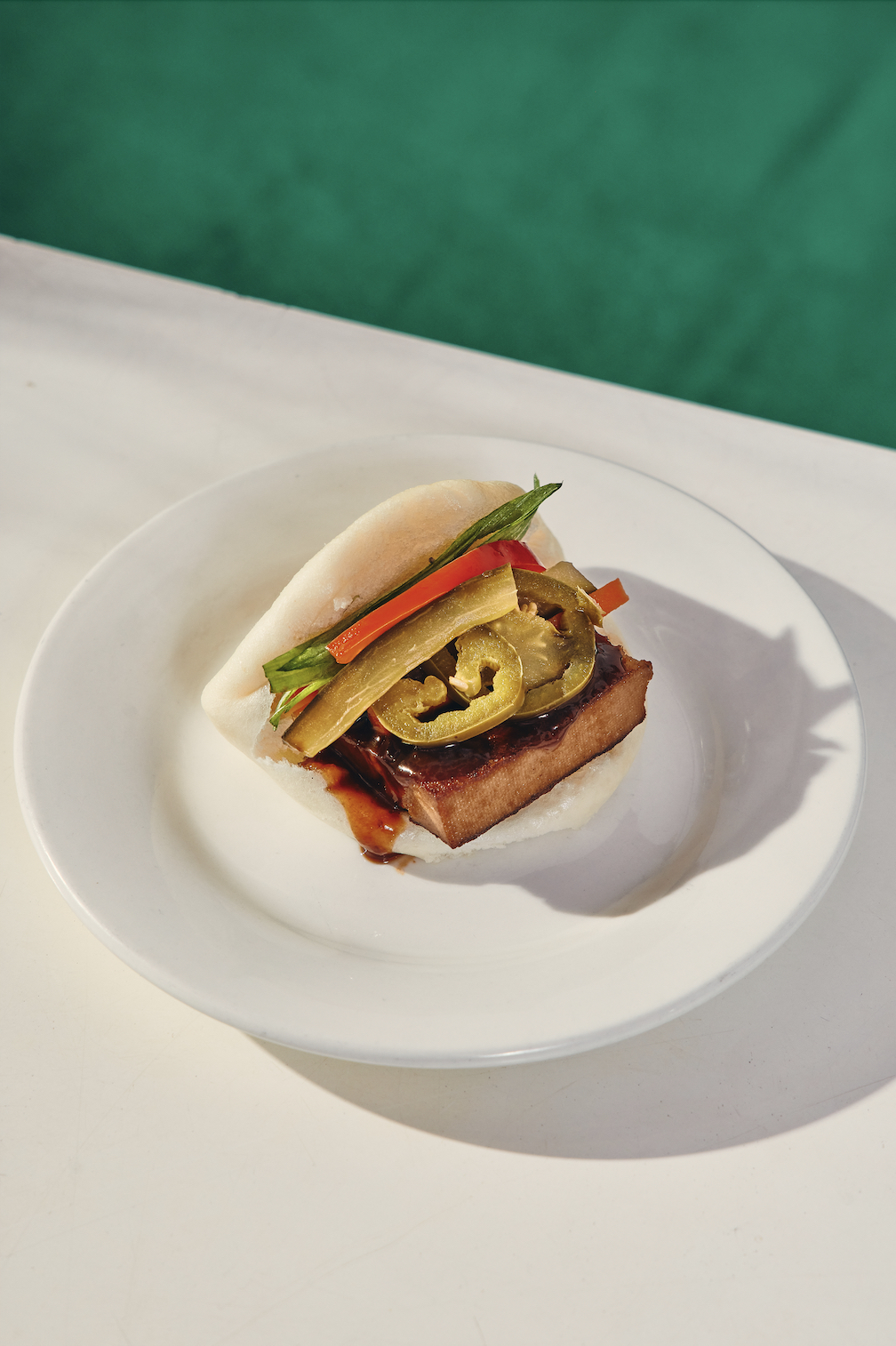 All of their venues are vegan, but they also prioritize creating safe, ethical, and thriving environments for their staff and clientele. On top of that, they have a real eye for décor: each establishment has its own unique aesthetic from Southern charm to Thirties chic. But, of course, it's the food that NYC has been sinking its teeth into. Three of the five restaurants listed in Michelin's best-of-guide to vegetarian dining in NYC are Overthrow Hospitality. Ravi also received a James Beard nomination last year for Outstanding Restaurateur. "Our revolution aims to change the way people think about vegetables," he says, "showing that they can be the star of the show—just as tasty and filling as any meat product."
*For those in Los Angeles, Ravi's team is opening an African eatery there later this summer with Chef Shenarri Freeman at the helm.
—Jane Ratcliffe
How did you come up with the name of your business, Overthrow Hospitality?
The hospitality industry has long been plagued by toxicity, racism, and sexism. It is an industry that generates significant waste and thrives on animal exploitation. Unfortunately, one of the most disheartening realities is that negativity has become ingrained and expected in bar and restaurant work. The name Overthrow Hospitality was chosen to symbolize our mission to challenge these existing norms. When my partners and I took the time to contemplate the kind of company we wished to create, we agreed that it must reflect our own values and ethics to find true fulfillment in our work. We basically took a sweeping personal inventory and were able to trace everything back to a handful of guiding principles.

Compassion is our compass. From animal rights to workers' rights and guest rights, our ability to empathize is always going to inform our response to these broader societal questions regarding the treatment of all living things. It's about creating a fulfilling and safe place to work. Wherever you find harmony between ethical management and high performance, you are going to find inclusivity, so let's protect that. In 2022, more than 75% of our staff identified as female, BIPOC, and/or LGBTQ.

Incorporating community-based initiatives outside of our daily operations keeps us rowing in the same direction. Among our numerous charitable endeavors, we initiated a free meal program during the COVID pandemic. We started by turning our storefront into a community hub where anyone could come for a free meal during the shutdown and ended up distributing over a hundred thousand meals to those who were most in need.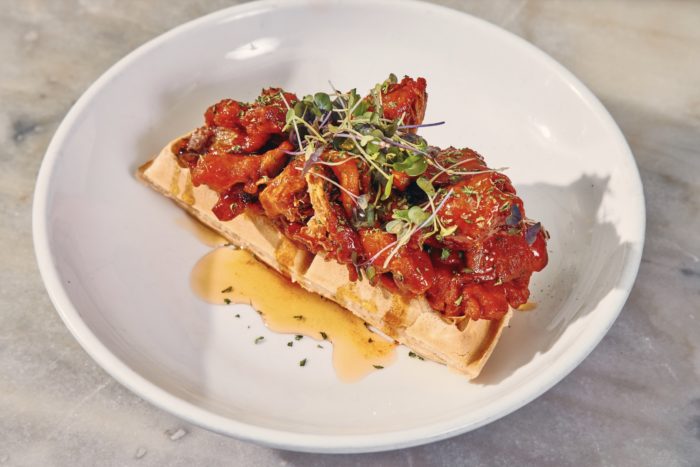 Can you tell us about your journey from meat eater to vegan?
At age 12, I stopped eating meat without fully understanding why. Entering hospitality years later, I had some serious doubts about the viability of vegan fare in business, so I defaulted to serving meat and dairy. Over the next decade, I opened 15 successful places, all serving animal products. Working tirelessly, consumed by alcohol and greed, I had become numb and altered. Somehow my conscience had been rewired to justify how I was living. During that hellish period of my life, I was very fortunate to have a girlfriend who loved animals and convinced me to adopt a dog. One dog became two, one cat became four, and they eventually became the best part of my life. I made space for them in a way I had never made space for myself, reducing my workload and drinking less to spend more time with them, realizing our profound connection and how they were saving my life.

In 2015, my cat Simon was diagnosed with a terminal illness. The doctor predicted his imminent death within months, if not weeks. Simon and I shared a unique bond—he insisted on sleeping on my chest, nudging me if I turned over. Despite my fortunate life, I had never experienced loss, human or animal, and struggled emotionally. Devoting myself to Simon's care, I tried every remedy, unwilling to let him go. Then, our roles reversed. I was that 12-year-old kid again and Simon appeared to care for me more than I could for him, accepting his fate peacefully. Sitting on my chest, he gazed into my eyes, as if imparting a profound realization. This became his final gift—a fleeting connection to his consciousness, I had finally made the connection between animals as pets and animals as food. On Christmas Eve, we fell asleep in that manner. Simon never woke up, but I finally did. From that morning on, I made the decision to take meat and dairy off the menu at all of my restaurants and bars.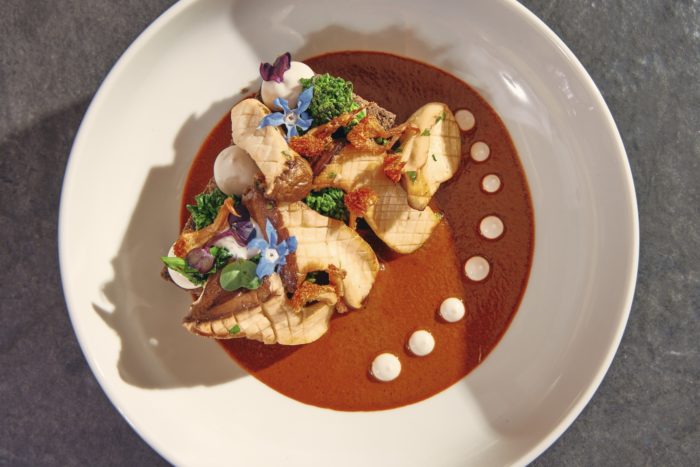 One of your pop up restaurants, &Beer, is entirely mushroom-centric, even dessert. What do you love most about mushrooms?
I loathed mushrooms for most of my life—the taste, the texture—detesting everything about them. But then, everything changed. In 2013, while our company was still transitioning to a vegan approach, we were sampling various new dishes and one of those dishes featured just three types of mushrooms: a puree, a pickle, and a sauté. Surprisingly, when combined in each bite, the flavors exceeded expectations in their complexity despite the simplicity of the presentation. It was initially intended to be a side dish at a seafood restaurant, but ended up altering the entire trajectory of my company. The versatility and intricacy of mushrooms rival any meat or dairy product available, leading me to question the necessity of animal-based ingredients.

That mushroom dish was the catalyst for my first vegan restaurant Avant Garden and then went on to inspire &Beer. With the right seasoning and preparation, mushrooms do not have to be the slimy, snail-like substance I once thought they were. What's more important is that mushrooms are one of the most sustainable food products we can produce. They use less water and less energy to grow, and can be grown virtually anywhere, yielding the most amount of product in the least amount of space.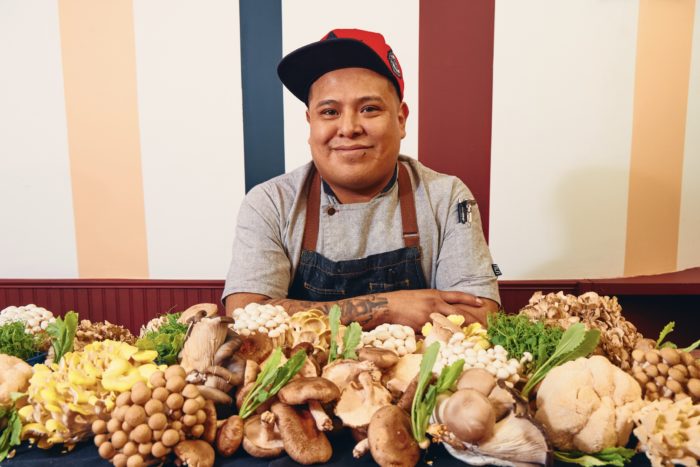 Your tagline is: Eat, Drink, Start A Revolution. What kind of revolution are you hoping to start?
On a very personal note, I believe we can revolutionize the way we think about things and turn many of our preconceived notions upside down. We have been conditioned since childhood to believe that consuming meat and dairy is necessary for a healthy life. Science has proven this to be incorrect. Vegetables have always been considered as side dishes. Why should kids have to force themselves to eat something that can be as delicious as everything else on the plate? Our revolution aims to change the way people think about vegetables, showing that they can be the star of the show—just as tasty and filling as any meat product.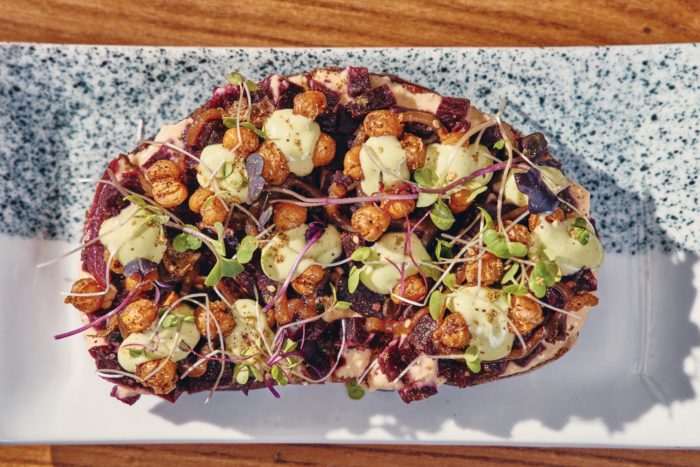 What do you typically look for in the chefs you partner with when opening a new place?
I am now at the point in my career where what is most important to me is working with chefs who I genuinely adore as human beings and who lack the ego that sometimes comes along with being a creative and talented individual. As long as they have a basic understanding of how to use a knife and a passion for cooking, we can work together to create something greater than the sum of its parts. My favorite part of the job is working with less experienced chefs, many who are straight out of culinary school, and finding out what drives their culinary journey and then working together to bring that vision to life.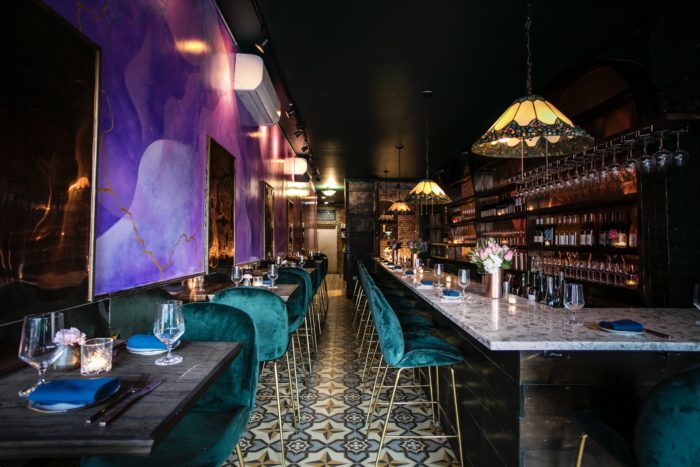 How would you describe your vision?
Simply put, our vision is to alleviate suffering in the world. We believe that the majority of people aspire to improve themselves and contribute to a healthier planet. Our restaurants provide a simple way to reduce suffering, not only for animals, but also for the well-being of humans and the environment. We offer this without compromising the satisfaction one derives from eating a steak. Reducing suffering doesn't mean sacrificing transformative experiences.

It has been said that if factory farms had windows, we would all choose to be vegan. In this age of social media and mass communication, we have all witnessed the suffering that occurs in slaughterhouses. Each year, more studies confirm that consuming meat is the leading cause of cancer and heart disease, while factory farming significantly contributes to climate change. Regardless of personal beliefs about climate change, we have all observed the changing weather patterns, increased severity of hurricanes, worsening droughts, and escalating destruction caused by large-scale fires. Adopting a vegan lifestyle is a path toward addressing these challenges and finding solutions.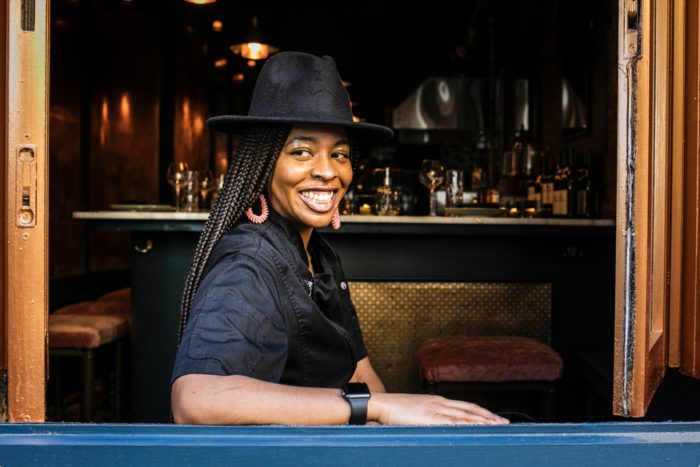 You are opening an African eatery in LA soon. What can you tell us about it?
Two years ago, in the middle of Covid, we took a chance and opened a soul food restaurant called Cadence in NYC with Chef Shenarri Freeman. It was named one of the best restaurants in the country by The New York Times and Esquire in 2021. Shenarri has also been nominated two years in a row as one of the best chefs in the country by the James Beard Foundation, and most recently won the coveted Forbes 30 Under 30. She mentioned to us that she wanted to move to LA, so together we came up with an idea for a new restaurant, Ubuntu. She traveled to West Africa to find inspiration for the restaurant and when she returned, we spent six months using the ingredients she discovered to develop the menu. Now completed, she has made the move, and Ubuntu is expected to open late this summer. We also enlisted the help of the amazing co-author of Black Mixcellence, Colin Asare-Appiah, to create the cocktail menu. Everything on the wine and beer list came from Black-owned wineries and breweries as well. The restaurant is an homage to the people of Africa here in the U.S. and the rest of the world.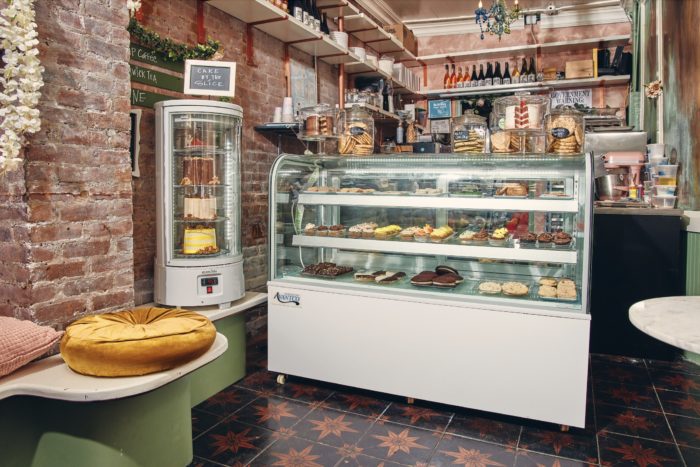 What are some of the biggest changes you'd like to see in the hospitality industry?
In addition to all the goals we have at Overthrow, I think it's important for our industry to foster a culture of collaboration and knowledge-sharing. We should be exchanging ideas, and allowing more vulnerability instead of adopting a scarcity mentality where it's assumed that there is a finite amount of dollars and recognition to go around. This deepens our divide and promotes unhealthy expectations, which can lead to mental health and physical well-being getting swept under the rug. I believe there is abundance, both in the natural world and in our hearts, for a more ethical future. For an industry tasked with being hospitable to our guests, we should be just as hospitable to one another and ourselves.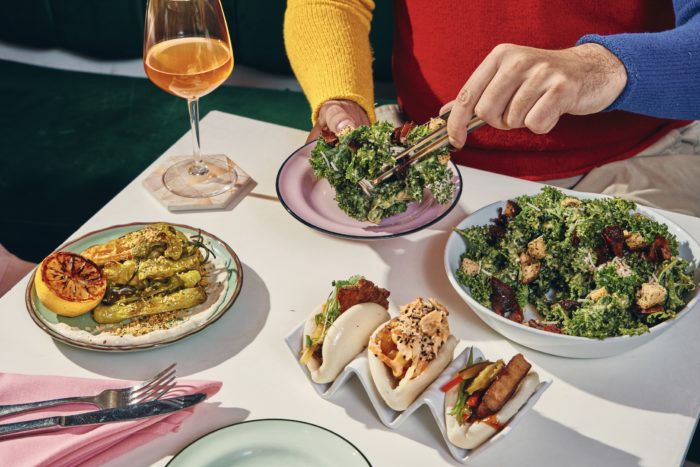 What do you see as the intersection of food and social activism?
At the root, what we decide to eat is harshly political. It could be said that the fork is one of the most powerful weapons in the world—as powerful as the pen. The fork has the power to stop wars before they even start. It has the power to end world hunger, drought and famine. What we choose to eat can dramatically slow climate change and lessen the damage from hurricanes and fires. It also has the power to eradicate certain types of cancer and heart disease. What we choose to eat has the power to save hundreds of millions of human lives and obviously hundreds of billions of animals. The meat industrial complex was built on the backs of slaves and continues to this day to be an inherently racist industry. One day soon there will be wars fought over clean water just as they are fought over oil today. Farm animals have complex emotional lives and feel in the same way that our dogs and cats at home do. All of these problems can be solved with the fork. There are several points where food serves as a platform to effect positive change. The issues in which I have invested myself deeply are raising awareness about animal welfare, racial injustice and environmental sustainability.