Interdisciplinary artist Melissa McGill has been frequenting Venice, Italy for three decades. Over that time period, she noticed a dramatic change in the city and was inspired to create Red Regatta, a large-scale display of artwork to bring both locals and tourists together in a celebration of culture and history, but also in an act to raise awareness about the detrimental effects of climate change and mass tourism. This independent public art project featured a choreographed regatta of traditional vela al terzo sailboats with hand-painted red sails moving through Venice's lagoon and waterways. The red hues in every sail evoke a sense of urgency, bringing awareness to what's threatening the city's future—rising sea levels and heedless tourism. McGill says it is "a wake-up call about the state of the environment and our fragile ecosystems." Red Regatta is also the first piece of artwork registered as a Clean Regatta, a Sailors for the Sea program that prompts sailors to protect the ocean through education and activism. McGill has propelled a conversation in Venice that she is bringing to NYC later this month on October 22 when she will be speaking at Casa Italiana; and Turin, Italy on October 31st where she will present an exhibition of artworks created during the Red Regatta project.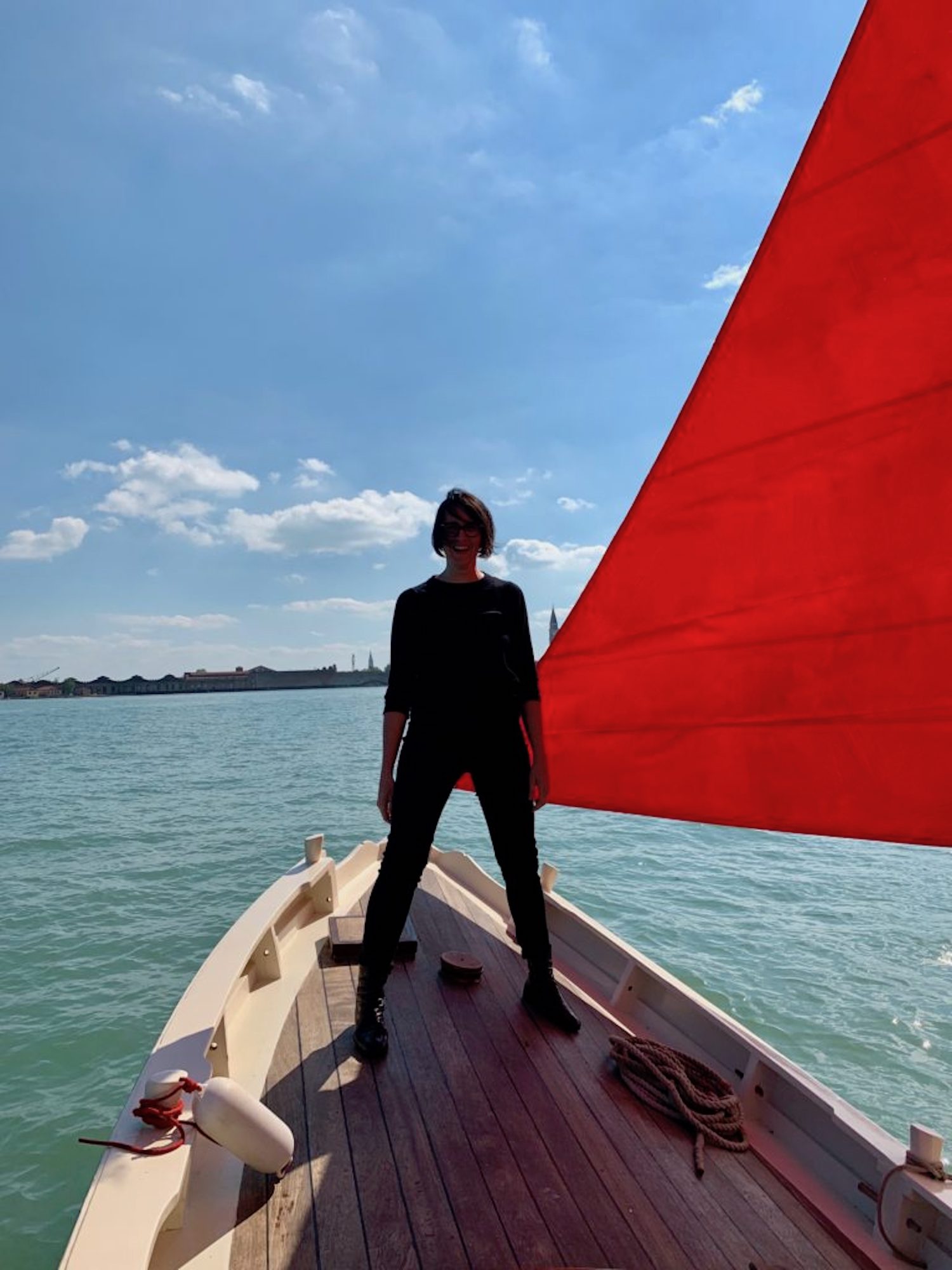 What inspired you to create Red Regatta? What is the project all about?
Red Regatta is inspired by my long personal history with Venice, where I lived for 2 years and frequented for 30 years. I have seen the city change dramatically over that time, and was inspired to create a vibrant artwork aiming to unite Venetians and visitors to celebrate the cultural and maritime history of the city, and call attention to the forces of climate change and mass tourism that threaten its future.
It is an independent public art project—an unprecedented series of large-scale choreographed regattas of traditional vela al terzo sailboats, hoisted with expressively hand-painted red sails, that activated Venice's lagoon and waterways from May-September 2019. Red Regatta navigated the delicate and liminal relationship between Venice's built and natural environments, between land and sea, and between humanity and nature. Venetians have been sailing the vela al terzo boats in the city's waterways and lagoon for more than a thousand years. Designed with a flat bottom and removable mast to pass under bridges and navigate Venice's unique maritime terrain, vela al terzo boats traditionally hoist sails painted in earthy colors of graphics representing each sailor's family. In Red Regatta, each boat has custom sails hand-painted in distinct shades of red that I developed in my studio, specifically inspired by and assigned to each boat.
The project encourages a new appreciation of the interaction of the defining forces of Venice—water, wind, art and architecture—that both continue to inspire and challenge its residents. As the sails glide though the lagoon in unison, the red hues mix and blend, while reflecting in the green blue lagoon.
Red Regatta is a collaboration with Associazione Vela al Terzo Venezia, co-organized by Magazzino Italian Art with support from Mazzoleni. It is curated by Chiara Spangaro, with project manager Marcella Ferrari.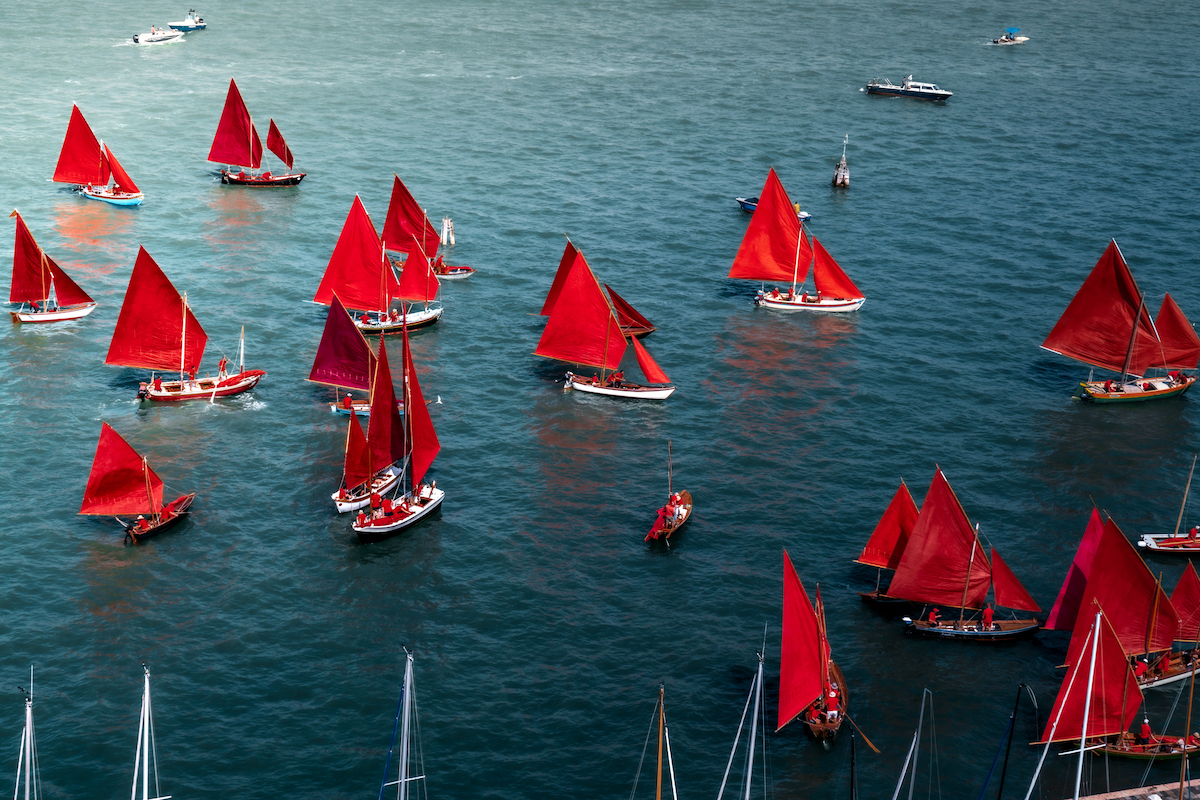 Why the color red?
Against the contrasting sky and sea, red references the forces of life and passion, of alarm and urgency, and Venice itself—from its bricks, terra cotta rooftops and flag to its history of trade in red pigment, and paintings by Titian, Tintoretto and other Venetian masters.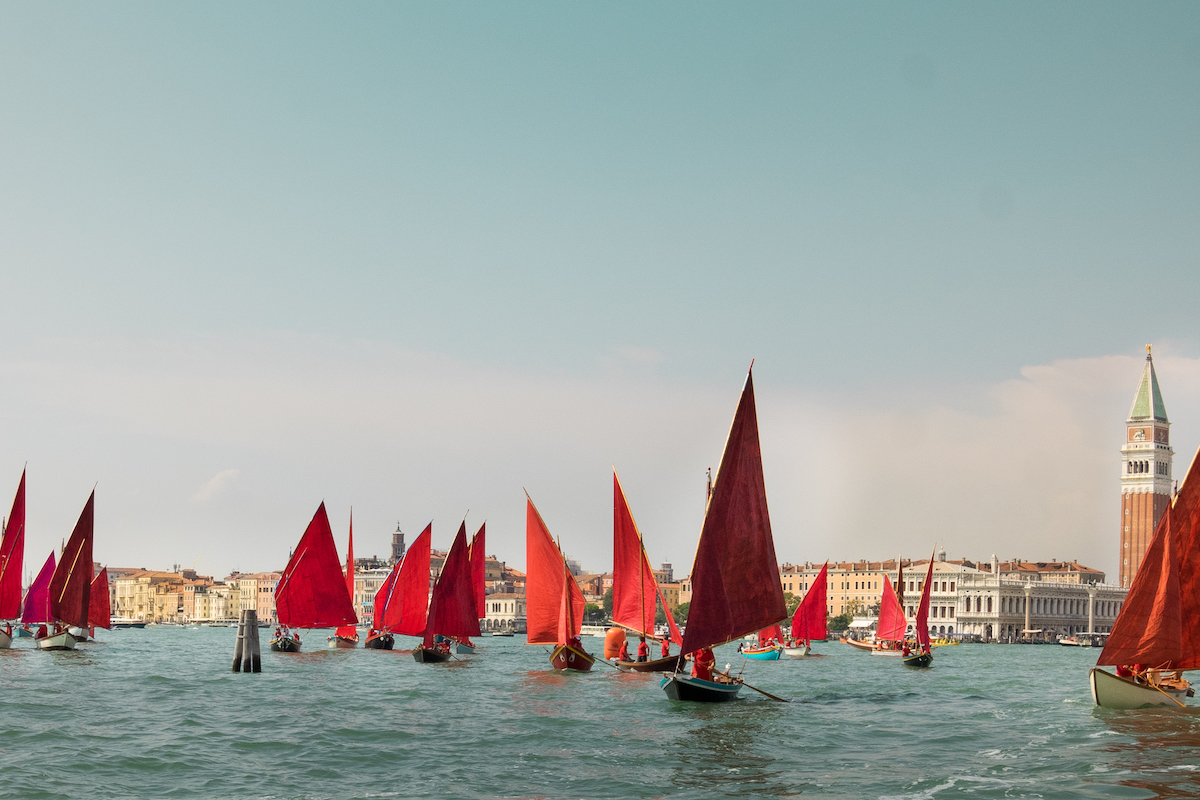 What is your relationship to the water and sailing? Do you remember your first encounter with that or what drew you to it?
My father was a sailor and I grew up sailing with him. I have always been very attracted to the sea, and all of my public art projects have engaged with water. Water connects us all.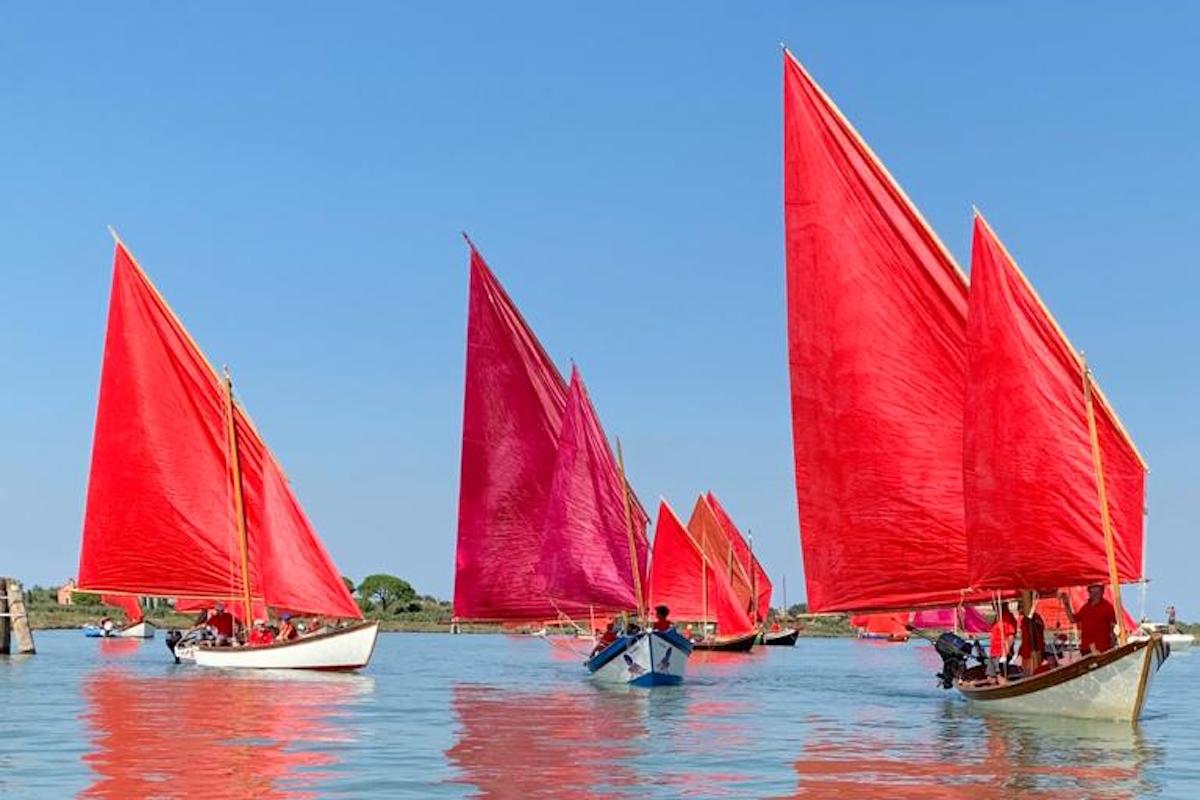 How does this interactive exhibit relate to climate change?
As a meditation on Venice's fragile future, Red Regatta invites local citizens and visitors alike to consider the impact of sea level rise and mass tourism in Venice, a city that lives and works by water yet is at great risk of being overtaken by it. This project is about uniting tradition, art, culture and environmental sustainability. It captures attention as a wake-up call about the state of the environment and our fragile ecosystems.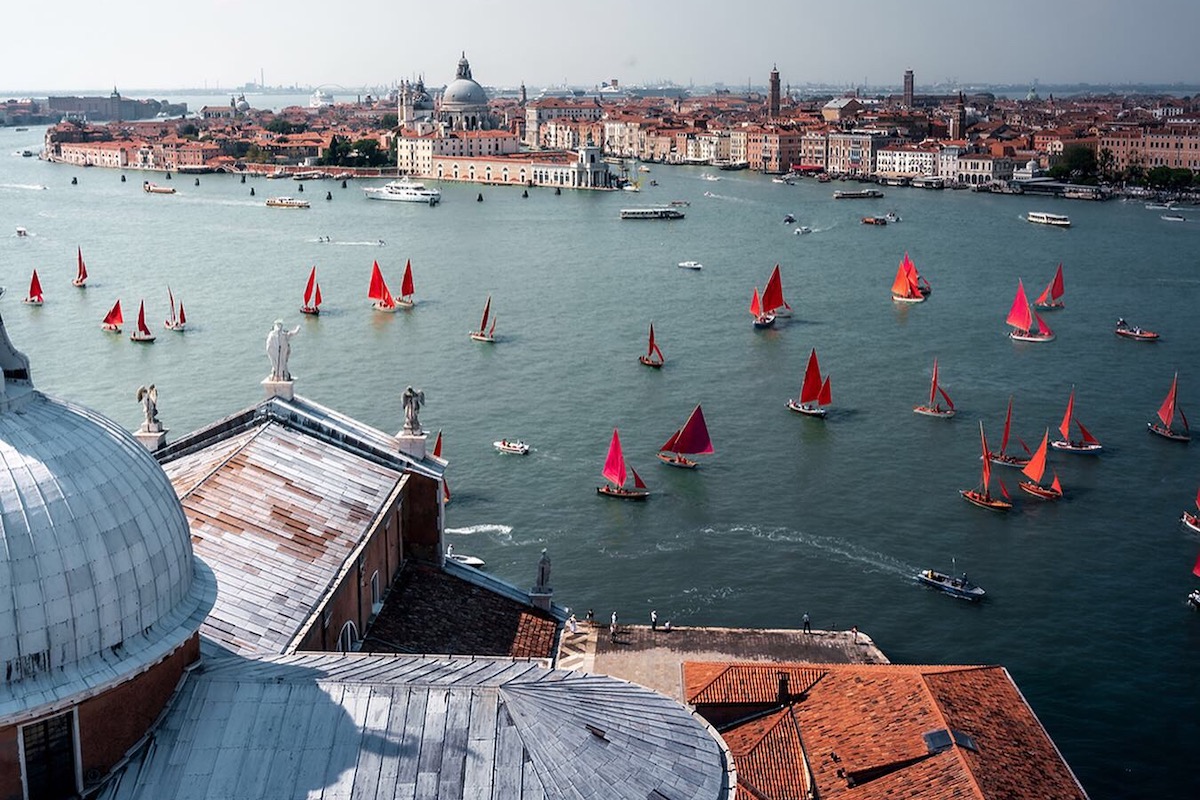 How have people been reacting to it?
It has had an amazing response and a great community has been formed. We have over 300 local collaborators. One of the major issues Venice faces is a declining local population. The current ratio is approximately 1 Venetian to every 358 tourists, so it's been fundamental to have this great big team of collaborating sailors, crew members, art and architecture students from local and international institutions.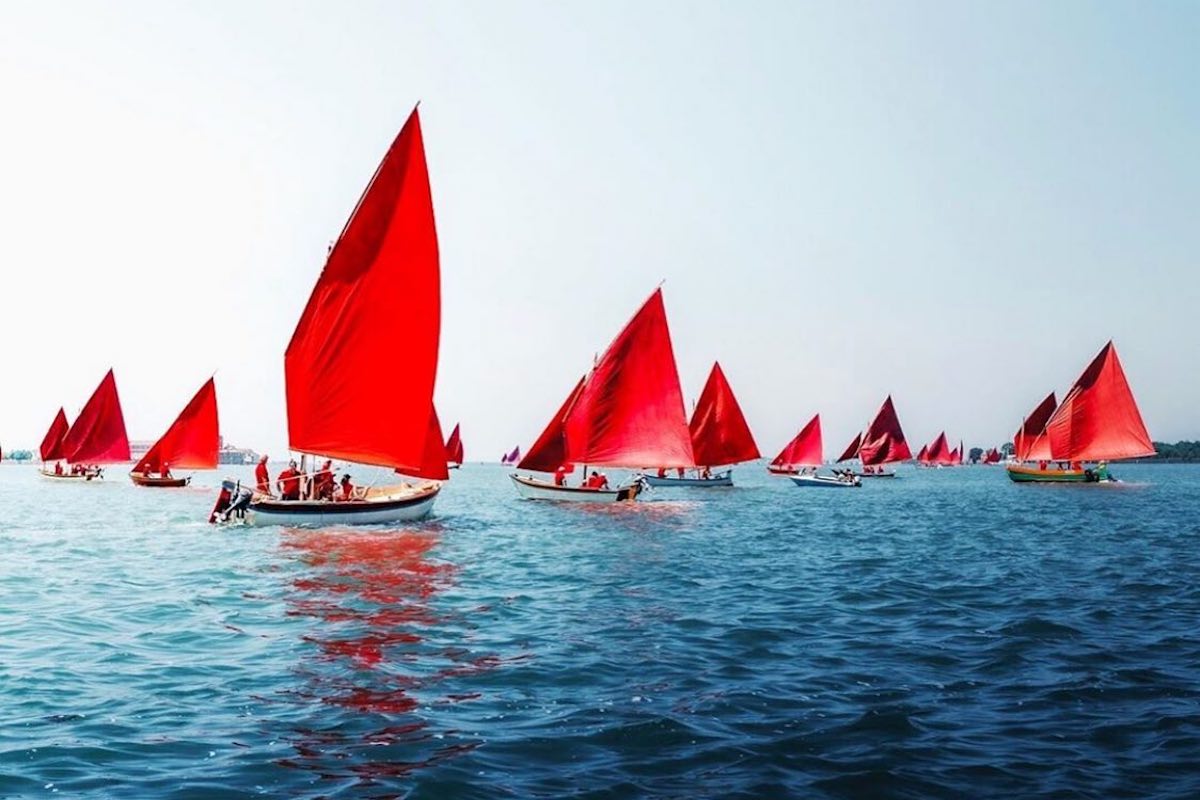 What are some examples of the artist-led workshops and public programs running in conjunction with the regattas?
There have been a whole series of wonderful programs organized around Red Regatta. Last March, we had a sail-painting workshop at Spazio Thetis in the Arsenale in Venice where I worked with students and collaborating sailors to paint 104 sails in 8 days.
Then I returned to New York to present a special preview of Red Regatta with Magazzino Italian Art at The United Nation's Italian Mission, where I premiered a video from the sail painting workshop Red Regatta color studies and artworks which remained on view during their high level climate change meetings.
We have presented two Open House events at Ocean Space in Venice, which is a new embassy for the oceans that catalyzes transdisciplinary research and fosters collective action—encouraging audiences to radically reimagine how we see and treat the defining feature of our blue planet. The most recent one was titled Open House: Past to Present/Local to Global. The Vela al Terzo sailing tradition, with the Associazione Vela al Terzo and Red Regatta, is a free interactive public program addressing the local and global perspectives of conservation in Venice's lagoon, including panel discussions exploring the history of Venice and the city's current environmental state; and educational and hands-on workshops for audiences of all ages.
We collaborated with the Peggy Guggenheim Collection, mooring a small group of vela al terzo boats in front of the Peggy Guggenheim Collection on the Grand Canal, inviting visitors and those passing by to learn about the project. The museum also presented a related family program dedicated to nature and its conservation, and joined ASviS, the Italian Alliance for Sustainable Development that promotes the 17 Goals of the United Nations 2030 Agenda. The workshop belongs to this awareness process as it addresses, in particular, Goal 13 to fight against climate change, and Goal 14, focus on sea life.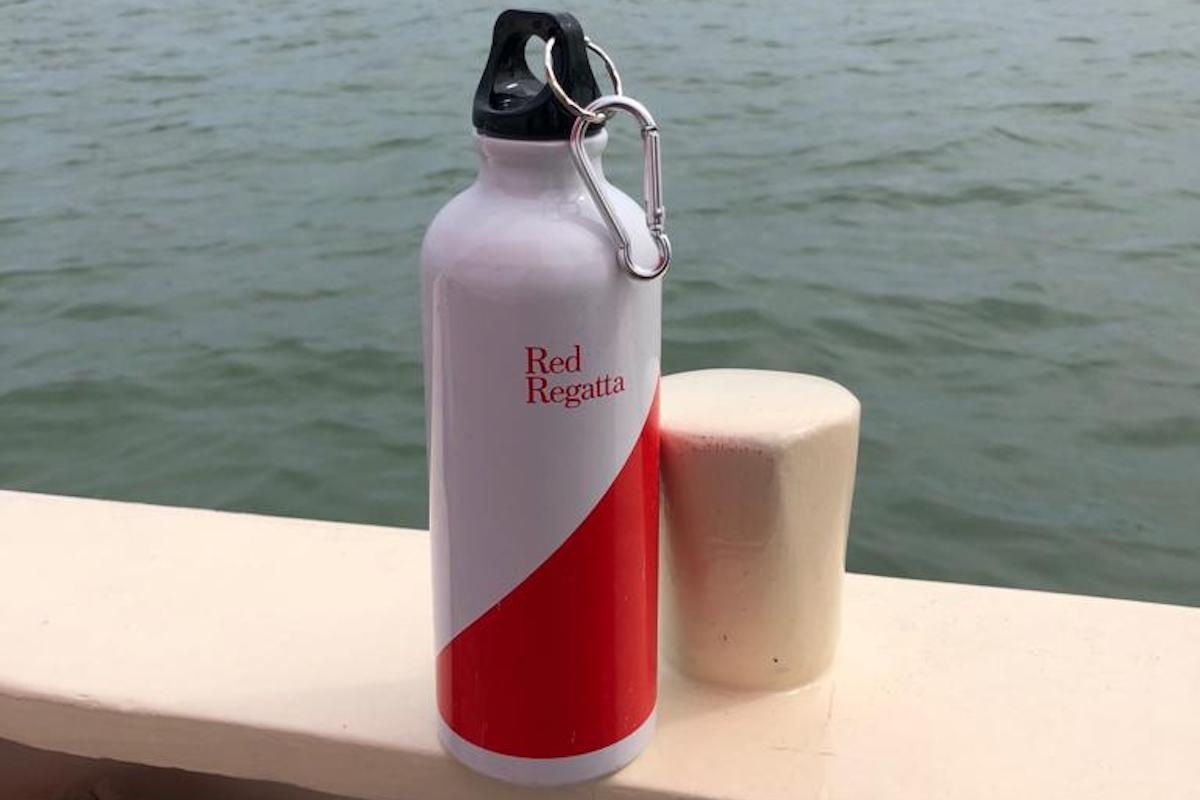 What does it mean to be registered as a "Clean Regatta"?
Red Regatta is the first artwork to be registered as a Clean Regatta, a program of Sailors for the Sea that mobilizes sailors to protect the ocean through education and activism. When I found out about this program, we registered immediately, committing to adhering to a series of practices for all of our events. Since its start in 2004, Sailors for the Sea has worked toward building a community of ocean stewards by offering tools, education and inspiration so that sailors may become change agents and harness the power of their passion to heal the ocean. Sailors for the Sea is headquartered in Newport, Rhode Island and has two affiliates: Sailors for the Sea Japan and Sailors for the Sea Portugal. It is also now an affiliate of Oceana. Clean Regatta is the world's only sustainability certification for water-based events. The program enables sailors to protect their local waters by empowering them with tips and resources to implement sustainability initiatives. Since 2006, more than 1,350 Clean Regattas have been run in 36 countries and in over half of all the United States.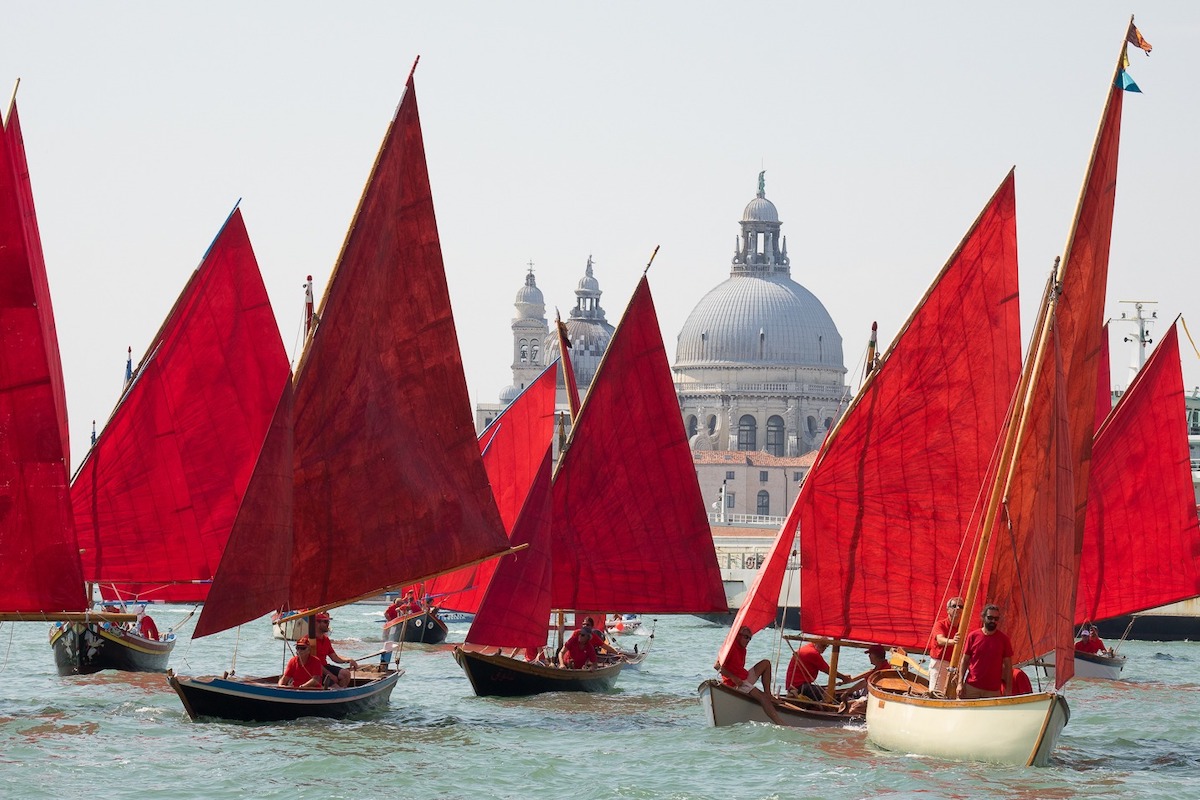 What's coming up in October and November?
On October 22, I will be speaking about Red Regatta and its creation at Casa Italiana in New York City by Save Venice's invitation. I am preparing for an exhibition of artworks created throughout the process of making Red Regatta, opening October 31st in Turin, Italy with
Mazzoleni. I am also getting started on a Red Regatta book and planning other related projects.
Do you have any advice for other artists hoping to make a difference and raise awareness?
There is an ancient Arab proverb: "Throw your heart out in front of you and run ahead to catch it." Be ambitious and work hard to make the projects that you want to share with the world. Don't talk yourself out of your dreams because they may be challenging to realize. Don't wait for someone else to give you permission or invitation to do the work you feel passionate about.Be a good listener and a good collaborator.