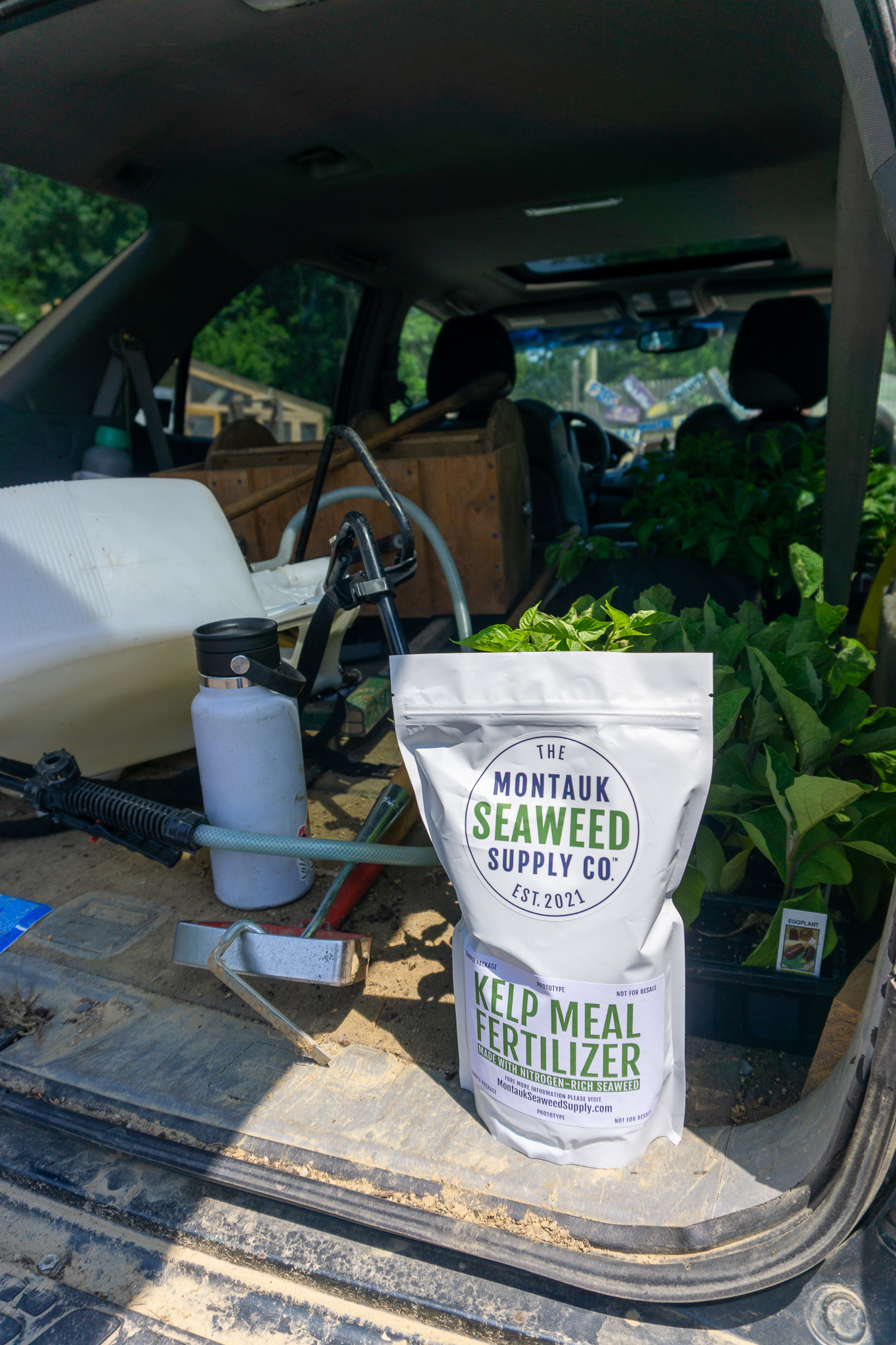 It's no secret that for decades, overdevelopment and the rampant use of synthetic fertilizers have bombarded coastal waterways with elevated levels of nitrogen that are destroying ecosystems and fisheries. In Long Island, The Montauk Seaweed Supply Company (a New York State certified and licensed commercial fertilizer distributor) has been supporting regenerative ocean farming solutions to help repair the damage. They currently offer two products: RegenSea, a regenerative kelp meal fertilizer made with sugar kelp from ocean farmers in Connecticut and Maine; and Sea to Soil, a local seaweed fertilizer made with wild NY rockweed from Bonac hand-harvesters in East Hampton. In addition to saving our soils and creating more jobs in support of a blue-green economy, an essential part of their mission is to pay homage to the Indigenous Peoples of Long Island, especially members of the Shinnecock Nation whose ancestors were the first people in the area to harvest and use kelp to strengthen the soil.
In a process called nutrient bioextraction, the harvested kelp removes nitrogen and carbon from coastal waters. Montauk Seaweed Supply then dries and grinds it into a nutrient-rich, natural fertilizer for farmers and gardeners. Kelp fertilizer has proven to help increase crop yields, improve soil structure, and increase drought resistance and bug resistance. While other U.S. states have been taking off in the commercial kelp farming industry, New York is new to the game as two important bills head to the Governor's desk this year: the New York Soil Health and Climate Resiliency Act, and the "Kelp Bill."
We chatted with Montauk Seaweed Supply Co's founder Sean Barrett, and kelp farmer Suzie Flores of Stonington Kelp Co, who sailed hundreds of pounds of fresh sugar kelp over to Montauk from her Connecticut farm for Sean's next batch of RegenSea.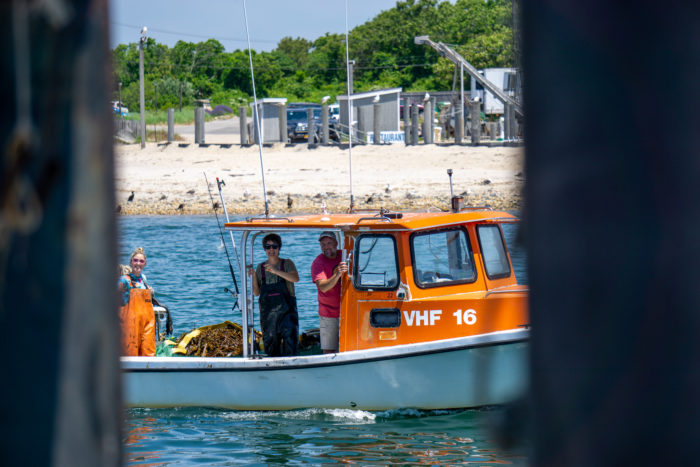 Q+A: Sean Barrett, Montauk Seaweed Supply Co.
What inspired the name Montauk Seaweed Supply Co? Why Montauk?
This name was drawn from practical purposes more than anything else. We wanted our name to be clear and authentic and timeless—and have the same simple meaning in a hundred years from now as it does today. Montauk is where our kelp landing and dockside operations are headquartered, plus all of our licensing with the New York State Department of Agriculture and Markets is tied to our facility and headquarters. So naming the company using an accurate description of exactly what the company does and precisely where it operates from not only helps customers immediately understand what we do and where we do it, but also helps regulators instantly recognize our brand and products in the marketplace, and makes us stand out among the huge volumes of imported (and often dangerous and synthetic) fertilizer brands and products being shipped into local markets from all over the world.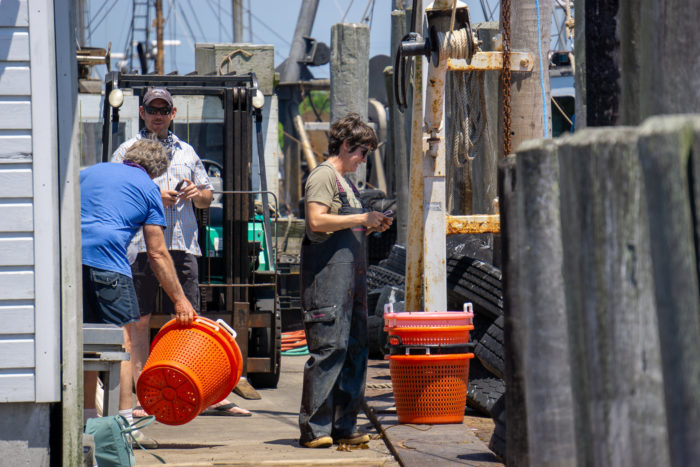 Senate Bill S6532A—"The Kelp Bill"—just passed earlier this month in New York. What happens now?
This was a very big deal! And we owe thanks and gratitude to hard work from a lot of folks in the community for rallying support to help get this Bill passed—Drawdown East End, the East Hampton Town Energy Sustainability Committee, the Southampton Sustainability Advisory Committee, Cornell Cooperative Extension and The Nature Conservancy, to name a few. From here, the Bill gets moved along in the legislative pipeline to the desk of the Governor where, hopefully, he signs it into law—and with the stroke of his pen, history will be made as commercial kelp farming will become authorized in Peconic and Gardiners bays.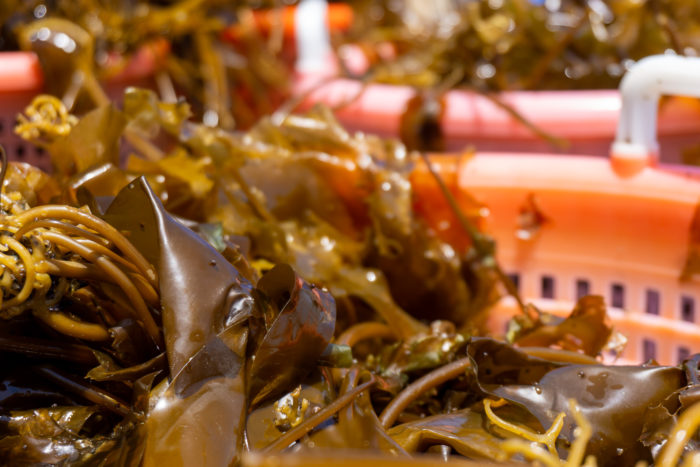 Who is among the first group of local gardeners testing out your fertilizer right now?
There is a big healthy mix of folks participating in the pilot program this summer, ranging from farmers and arborists to landscapers. We have a few dozen home gardeners working with our new kelp meal prototypes right now too, and everyone is reporting very good results across the board. We won't really start to see the most impressive results from the farms and gardens for another month or so, but we are confident that there are going to be a lot of very happy farmers and gardeners around town later this season.
It's important to mention that although we are driving a revival of this concept—to use local macroalgae like kelp from the sea to strengthen the soil—we always pay homage and honor the Indigenous Peoples of Long Island who truly pioneered these methods thousands of years ago. We are specifically grateful to members of the Shinnecock Nation who are helping us learn about the accurate history of this area and understand their ancient traditions. Right now Shane Weeks, Jason Cofield and Nyautash "Nonnie" Valdez are all testing out our Sea to Soil kelp meal fertilizer in their gardens at the Shinnecock Reservation, which is pretty exciting.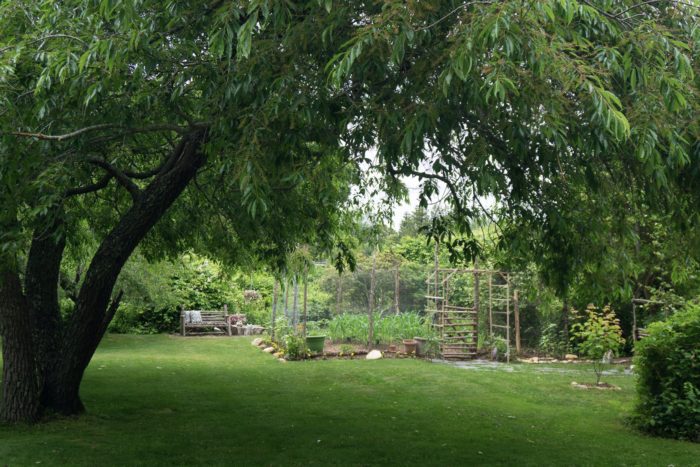 Also, Edwina von Gal and her amazing team at the Perfect Earth Project are working with our kelp meal in Springs and so is Layton Guenther at Quail Hill Farm; Mark Smith and Joe Realmuto at Nick & Toni's vegetable garden; and the legendary duo Jack Algiers and Shane Hardy at Stone Barns Center for Food & Agriculture. Meanwhile, Kevin Wyatt at Emerald Tree Care in Westchester County is working with our kelp meal to help boost immunity and lower stress in the trees that he is transplanting this summer, and my old friend Martine Orduña at Dune Environmental in Southampton is getting ready to experiment with turf grass applications.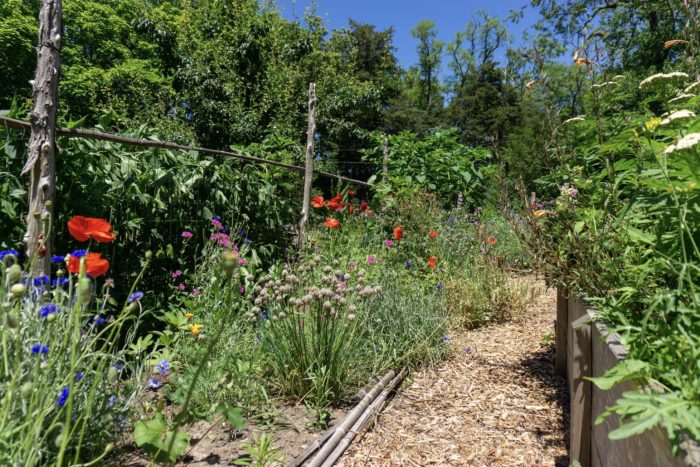 How is Montauk Seaweed Supply Co paying homage to the Indigenous Peoples of Long Island?
We are striving to do this in any way we can. I have learned that among the most important things to do right now is listen and learn. So much of what I had been taught about this history was not accurate, and this is the time where the truth is coming forward and healing can begin. For me, a foundation of that process is to stop talking and start listening. Tela Troge from the Shinnecock Nation once hosted a learning session at the Watermill Center with Kelly Dennis, also a member of the Nation, and Tela said something that night that stopped me in my tracks. She said to be mindful of the "juxtaposition" between who the Shinnecock People are—kind, generous and warm-spirited people—and how they have been treated over the past 400 years, under constant threat, oppression and tyranny. Ever since then we try to make sure that the reality she explained is front and center in everything we do, and you will notice we regularly consult with Shinnecock members and make efforts to revive and protect their culture and traditions. We strive to invite, include and truly appreciate their participation and involvement and perspective. And we try to listen and learn, everything from the true history which is often very difficult to hear, to their language and philosophies. All of this is part of a healing process that has only just begun. Of course we encourage everyone to see the Conscience Point film; it will change your life.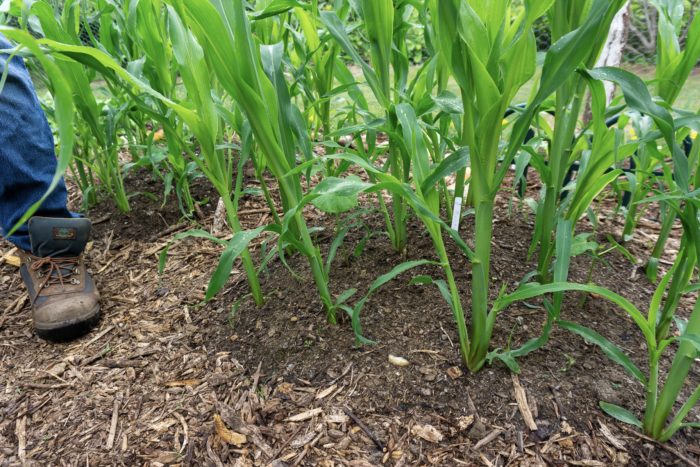 Which seaweed species are native to Long Island?
Would you believe that there are about 250 species of seaweed that have been documented in Long Island Sounds alone? This doesn't count the Atlantic Ocean side of Long Island which would raise that number by an order of magnitude. There is a literal "botanical gardens of the sea" all around us with kelp, rockweed, bladder wrack, and Irish moss, to name a few. Experts say Long Island has such a rich variety of algae because its variety of habitats, large temperature range, shallow depth, and relatively sheltered geographic location make it an ideal environment for growth of kelps and seaweeds. We are also now seeing waves of warm water invasive species of seaweed showing up here now as ocean temperatures rise due to climate change.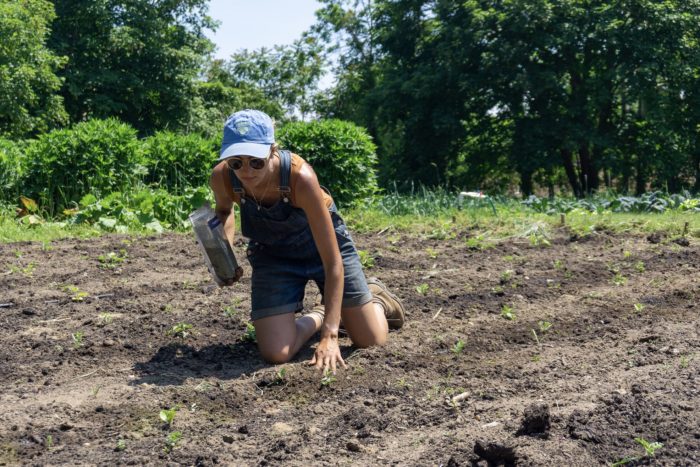 What are you most excited about right now in the kelp world?
There are two things I'm super excited about. The first is an overdue revival of Native American traditions and the help and guidance we have received from members of the Shinncock Nation as we forge ahead figuring out how to strengthen the soil using nutrients from the sea. And the second is the alert I just received from UPS telling me that our kelp meal samples have been delivered to Chef Dan Barber at Blue Hill. This is extremely exciting because I know he's opening that delivery and thinking to himself that it's official and a whole new chapter has begun. He knows that if the last decade was an adventurous roller coaster ride as we worked together disrupting the global industrial seafood complex with the Dock to Dish model—that the coming decades are going to be a fast moving rocket ship ride to another world as we upend the conventional fertilizer marketplace and drive the Sea to Soil movement into every farm, garden and vineyard across this hemisphere.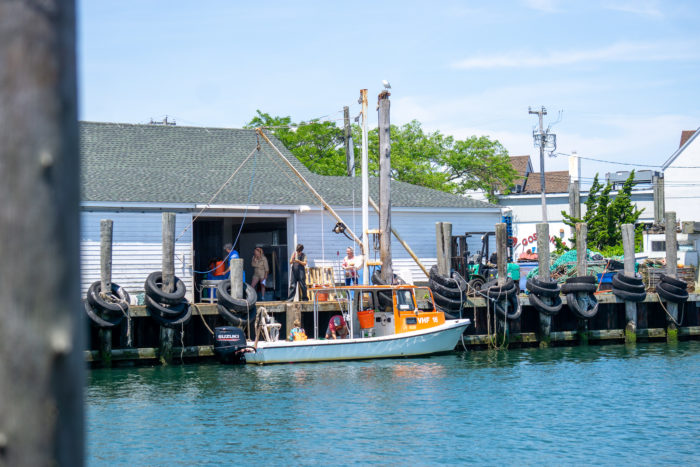 Q+A: Suzie Flores, Stonington Kelp Co.
How did you first get into kelp farming?
When my husband, Jay, and I purchased a marina in Pawcatuck, CT, we started exploring more ways to be on the water year round since we had year round access to our boat. I began researching and discovered Dr. Charlie Yarish from UCONN and then things snowballed into where I am now.
Do you think that kelp and commercial seaweed aquaculture programs in New York will compare to the industry you have in Connecticut?
I think NY has a wildly promising market. The more existing farmers with existing aquaculture leases are involved, the easier it will be for new farmers to come on board. The market is growing as is the demand as people begin to understand the true value of sugar kelp as a food product.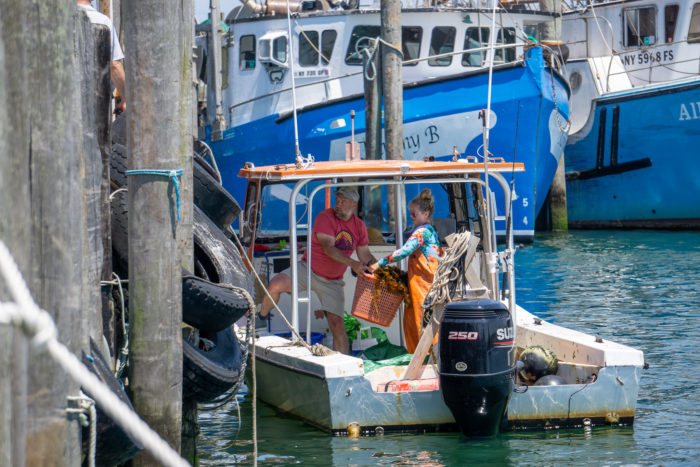 Kelp has proven to act like a filtration system for the sea—capturing carbon, nitrogen and phosphorus; decreasing the levels of fertilizer runoff; etc. How do you ensure that it's safe for consumption?
In Connecticut, we are managed as a seafood. I operate under a HACCP plan, and have to cultivate my crops in an approved aquaculture site with grade A waters. My crops are tested for various panels of bacteria and MOST importantly, my crops are tested for heavy metals. My regulatory partners do so much to make sure what is harvested is not only safe but the absolute best product. I know that the kelp cultivated on my farm is safe for me and for my children to eat. I think the model that CT has taken is a great one to emulate. Unfortunately, things are done state by state and not every state in New England mandates these tests and this level of rigor. If people want to ensure they are eating kelp that is free of heavy metals, they need to ask the farmer or buy kelp from a state that regulates it in such a way.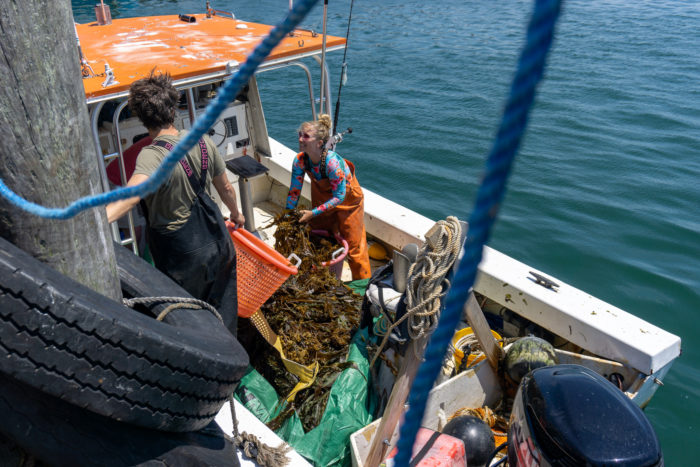 What have you found to be the most difficult aspects of kelp farming?
The education piece is the biggest challenge, but is also the most fun. There is a steep learning curve to get people comfortable cooking with kelp. This has given me many opportunities to create content (how-to videos, flyers, classes) as well as meet a bunch of creative and passionate chefs who can take cooking with sugar kelp to the next level.
Do you have a favorite type of seaweed?
Yes, sugar kelp! Locally grown in clean New England waters…there is nothing better.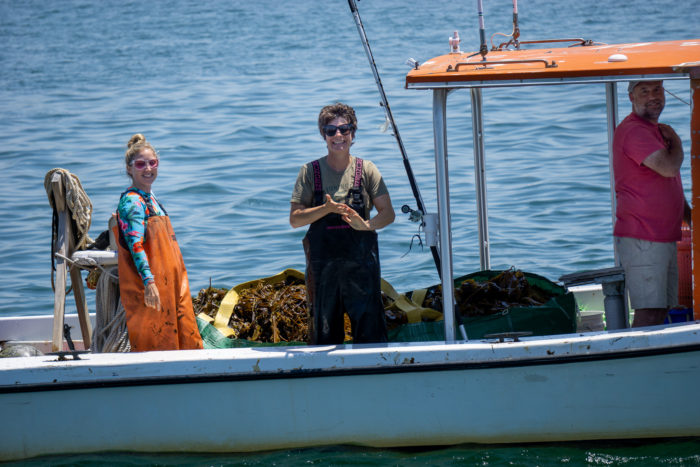 What are you most excited about right now in the kelp world?
I really enjoy the number of wonderful women I have met since I started this farm. This year, due to COVID-19, I farmed the whole season with a Fulbright scholar (Elizabeth Ellenwood) who was stuck in the U.S. while she waited for the borders to reopen so she could continue her work. It was amazing. She is a brilliant artist and turns out to be an excellent farmer. She is also an amazing photographer so we captured many incredible images of the farm this season that I otherwise would never have seen. The kelp world has opened up many new possibilities to know interesting and talented people.