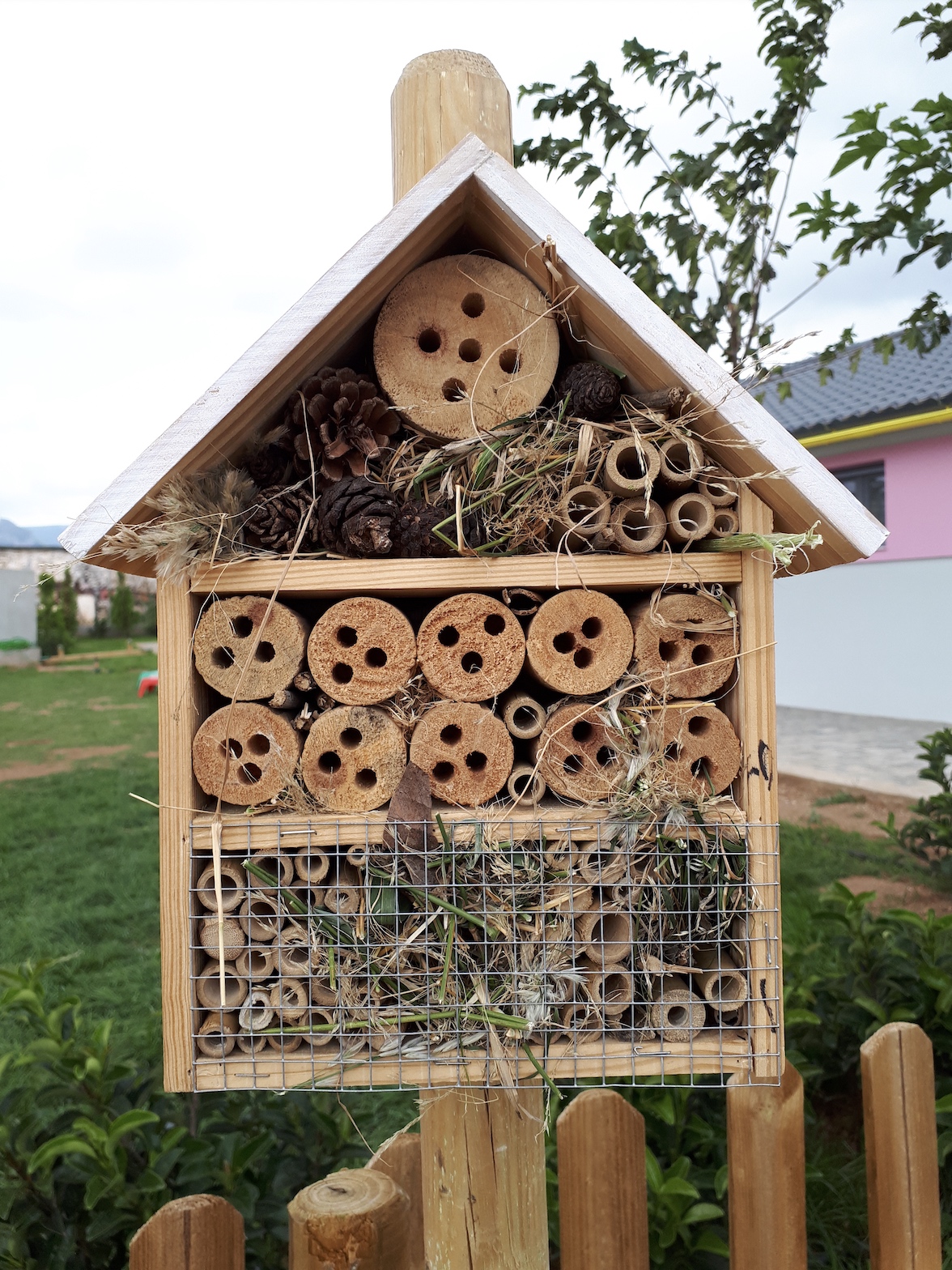 In 2018, after receiving a Masters in Animal Behavior and researching bee laboratories around the world, Aggelina Kanellopoulou started The Bee Camp—Greece's first NGO focused on the protection of bees and other pollinators. Last year, she was one of the first beekeepers to participate in the UNESCO x Guerlain Women for Bees program with Angelina Jolie in France, and this year she joined Jolie and Women for Bees to conduct workshops for children in Samlout, Cambodia. Her Bee Camp team provides education and raises awareness, but also carefully designs solutions for increasing biodiversity in urban communities. Their Bee Spots around Greece are safe havens for pollinators, providing food and habitat within depleted or concrete landscapes. —Jane Ratcliffe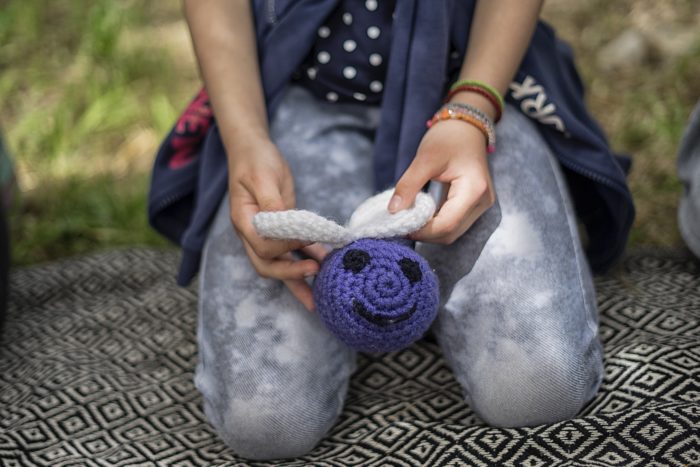 What first sparked your curiosity and passion for bees and other pollinators?
I was 22 years old when I first got in touch with bees. At the time, I was studying Psychology and was volunteering for various environmental protection NGOs in Greece. I was already very curious about the natural world and I decided to take a six-month-long seminar of beekeeping, with no previous experience. Those six months completely changed my life. Through the bees, I realized for the first time that everything is interconnected—how flowers, fruits and bees have a common story that goes back 100 million years. I had to follow this excitement and curiosity. It led me to a Masters in Animal Behavior, and conducting research on various bee laboratories around the world, the challenges that bees face, and the ways to help protect them.

In 2018, I knew that I needed to actually take the next step on this journey. That's when I founded The Bee Camp, the first NGO in Greece working on the protection of bees and pollinators. Through education, raising awareness, events and conservation actions we aim to make the world a better place for people and pollinators.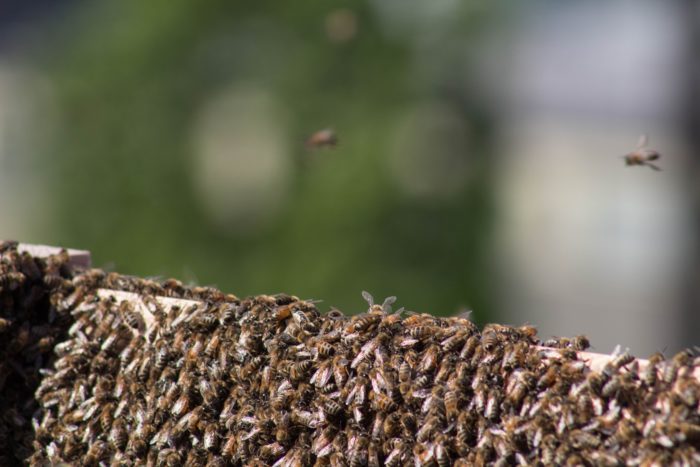 A bee colony is intrinsically interdependent. What can humans learn from them?
Bees are what we call superorganisms. They are a group of interdependent individuals of the same species that behave as a unified organism. Each individual plays a specific role and at the same time, depends on the others to successfully perform their role—just as a human body functions as one organism even if it is a multitude of cells.

The queen bee is the only one that can lay eggs; the workers are the ones responsible for the rest of the tasks (cleaning and building the hive, collecting food and rearing the brood); and the main function of the drones is to fertilize the queen.

Our societies are built in the same way. The support and function of every individual has an impact on others and in order to live harmoniously, I believe, we need to understand that interdependence.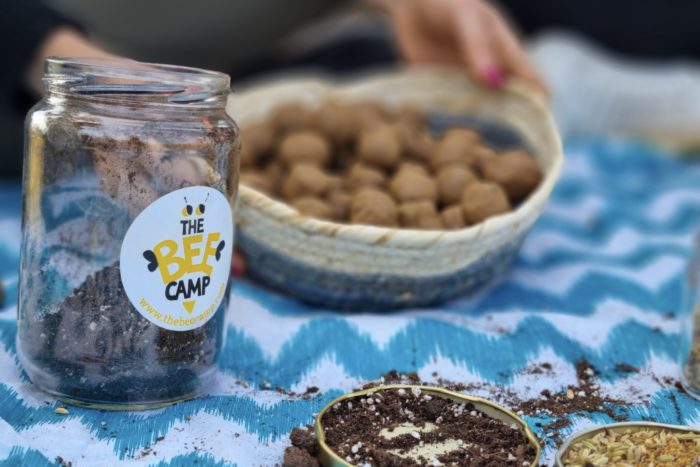 What are your thoughts on backyard hives and honeybees? Some believe that the honeybees compete with native bees and are therefore bad for the environment.
This is a fact backed up by scientific research. Honeybees compete with native bees for resources of nectar and pollen. For years the media has been bombarding us to "save the bees." People think that beekeeping means to help pollinators, primarily because honey bees are so common and so well-studied. Honeybees, though, are just one of the 20,000 species of bees in the world. It is globally distributed due to our love of tasty honey, but the more honeybee colonies we introduce to a site, the more they will compete with the local native bee species. The answer is simple: more food, fewer hives. We need to plant nutritious bee-friendly plants full of nectar and pollen to feed them.

What changes would you like to see implemented to help bees?
There are four main things that I keep as easy guidelines in order for us to participate in helping bees.
Plant as many native flowers as you can.
Create habitat (bee hotels, leave some barren soil, etc).
Buy organic and don't use pesticides.
Share the buzz!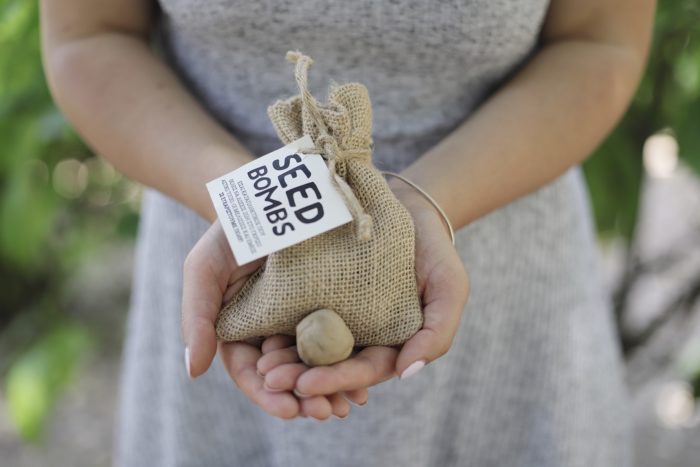 Can you tell us about Soula, the Greek bee, and her seed bombs?
Soula is The Bee Camp's mascot. She is a handmade (by our team member) bee puppet. She is the one that "speaks" in the name of the bees to the children. She has a number of stories to say about pesticides, lack of food sources and climate change, but also a lot of solutions. Her favorite one teaches people the secret recipe to making her magical seed bombs. Seed bombs are little balls made of clay, soil and seeds of native plants. You mix them all together, let it dry and then throw your seed bomb in an open space. Let the sun and rain do their job, and next thing you know colorful, scented wildflowers will be growing in our concrete cities and bees will be able to happily forage.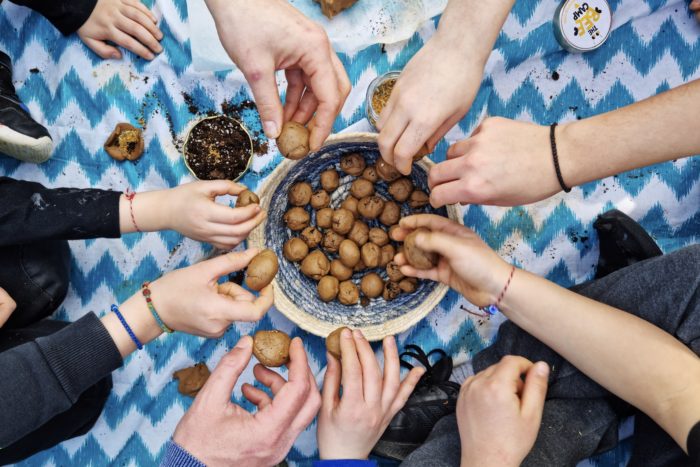 What has been the overall response to The Bee Camp? Are you working with many schools in Greece?
The Bee Camp was welcomed by the Greek audience very soon after its creation. We are lucky to have a strong interdisciplinary team of six women who have passionately supported the project since the beginning.

Children in Greece lack basic understanding of the role of bees and plants, and most of them cannot answer questions like, "How is a strawberry born?" Even though the level of environmental awareness is poor and people lack basic understanding about why bees are important, our smart, witty and playful communication style has brought more people on board the mission. We are happy and honored to have a large network of schools, companies and foundations around Greece that support our mission and goals.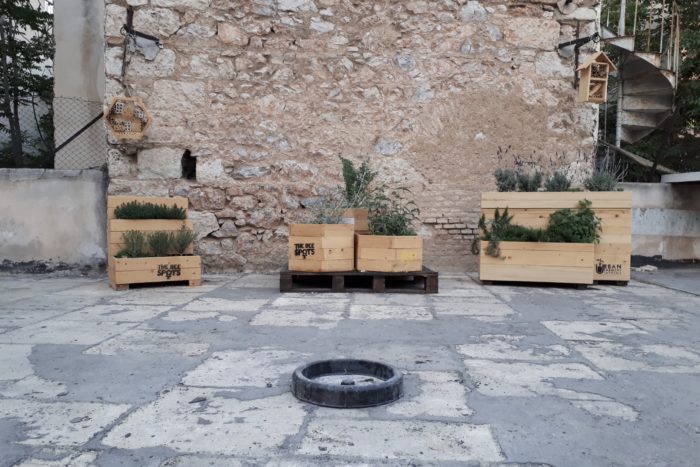 What are Bee Spots and how do you make them?
Bee Spots are safe havens in cities for bees and biodiversity. They consist of the two things that bees need to be happy: food and habitat. Food is in the form of plants that offer pollen and nectar all year long and habitat is in the form of soil (for ground nesting bees) as well as bee hotels (for solitary cavity nesting bees). It started as a crazy idea that came to me when I was thinking about how it would be possible for us to create spaces in cities for bees. What do urban bees need? The answer came and we started designing prototypes. Since then we have created more than twelve Bee Spots around Greece. The last one, and the biggest one, is at the Sani Resort in the North of Greece. The Sani Bee Spot is an innovative bee-friendly garden with seven different stations created by our team and dedicated to the life cycle of bees. Each station, carefully designed to serve both humans and pollinators, gives us information about the biology of wild bees as well as real-life examples of local bee species. The Bee Spot also serves as a resting place for people and pollinators.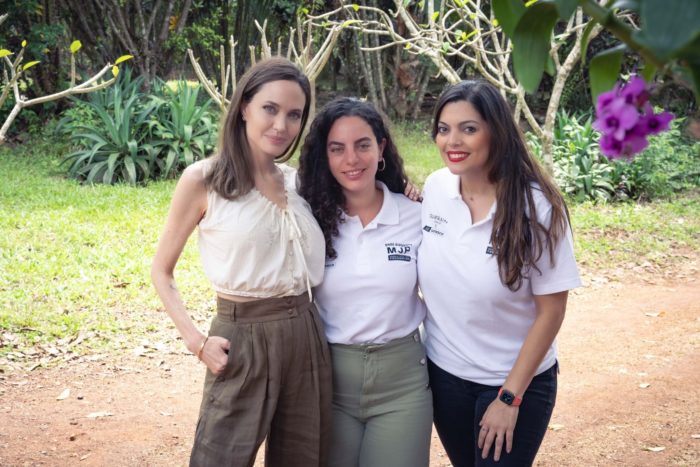 What was it like participating in the first UNESCO Women for Bees program?
It has been the most magical journey. I was invited to participate in the first year of the Women for Bees Program by UNESCO & Guerlain in 2021. I got the opportunity to spend a full month along with six other women in the South of France learning about local beekeeping techniques and the life of bees. At the end of the program, we spent three days with the Godmother of the program, Angelina Jolie.

Earlier this year, in February 2022, I was invited by Jolie to join her on a trip with the Women for Bees Program in Cambodia along with representatives from Guerlain and UNESCO. I am very grateful to have traveled to Cambodia to meet the next generation of local Women for Bees and to have given workshops to the children in Samlout at the Maddox Jolie-Pitt Foundation. It was an unforgettable experience.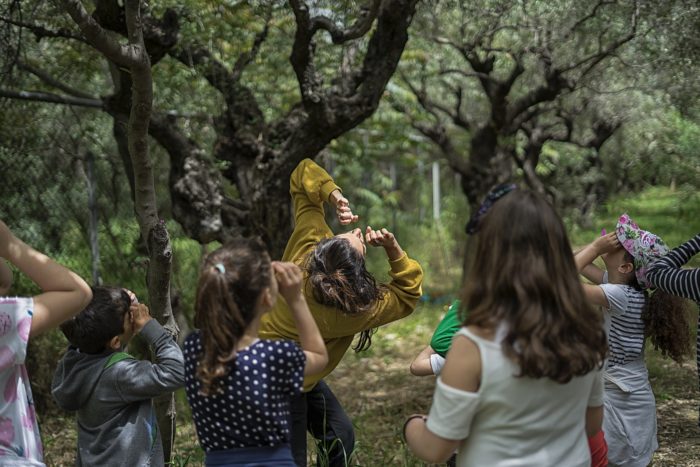 What do you envision for the future of The Bee Camp?
Our motto is "a better world is blooming" and this is what I wish and strive for. I want to see people living in harmony with local pollinators. I want to see cities designed for local biodiversity and full of flowers. I want to know that people celebrate pollinators and understand their role in our ecosystems and food systems. With education, raising awareness, more conservation actions and support we will be able to say that a better world is finally blooming for both people and the bees.
Imagine a world that is greener
A world that is blooming
A world full of life
A world for all
And now, join us and let's make this world together
With bees on our side.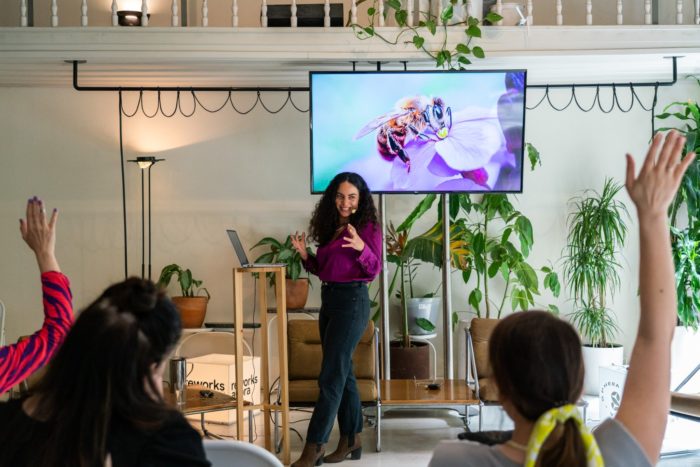 How can readers get involved?
Wherever you are, you can follow these basic rules:
Plant as many native flowers as you can.
Create habitat (bee hotels, leave some barren soil, etc).
Buy organic and don't use pesticides.
Share the buzz!
Follow us on Facebook and on Instagram. Donations are accepted on the support page of our website. Thank you for helping us buzz!