By now, most or all of us should be aware of the environmental damage caused by the textile industry—it's vast and riddled with carbon emissions and microplastics. The good news is that there are people working hard every day to develop better practices. Today we're highlighting a biomaterials company called AlgiKnit—founded by Tessa Callaghan, Aleks Gosiewski and Aaron Nesser—which uses kelp to create renewable yarns. They've started out by targeting apparel, but have plans to expand to all industries that utilize textile applications. And as they wrap up additional research and development, the team is excited about opening a brand new manufacturing facility in North Carolina this June, and having their yarn featured (in person for the first time) at the Barbican in London in Our Time on Earth, an exhibition on view until August 29. —Charlotte DeFazio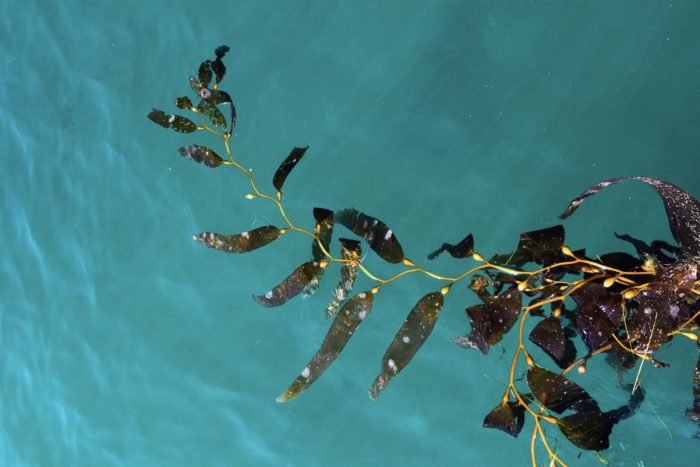 What inspired the creation of AlgiKnit?
We have to go back to 2017 when Aaron Nesser, Tessa Callaghan and I entered a student design competition called the Biodesign Challenge. As young innovators with a love for design, we entered art schools excited about the possibilities of working in the creative industries we had long aspired to become a part of. But after working in fashion in different capacities, we found that the resources and processes being used were too harmful for us to reconcile. Textile's unethical supply chains and hefty carbon emissions seemed ubiquitous and unavoidable. We wondered, as designers, if there was another way for us to design not only the products we wanted to see more of, but also the materials themselves.

AlgiKnit was founded with the end goal of harnessing the natural efficiencies of oceanic ecosystems and encapsulating that in a product. As we explored what natural materials we could use, we discovered seaweed and fell in love with it because of its boundless potential as a regenerative and renewable resource. In the right conditions, seaweed can grow incredibly fast, and it acts as a remediating force in ecosystems across the world, absorbing CO2 and fighting ocean acidification. We realized the potential to transform the fundamentally flawed textile industry we had witnessed first-hand. This opportunity was one we knew we had to pursue, and it united us on the idea that we initially connected on as young designers looking to create positive change: protecting the health of our planet.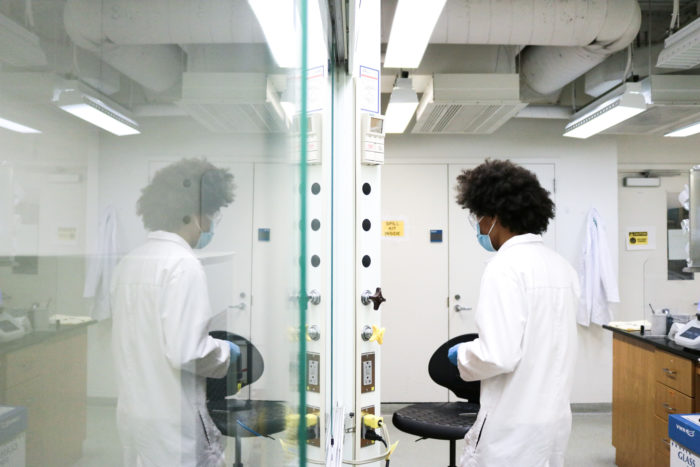 How does AlgiKnit compare in quality and durability to standard yarns?
Our yarn resembles the look and feel of cotton. This is something that brands and partners really get excited about, and it speaks to the sheer demand we've received with regards to our material. Quality and performance are also top of mind for us as we continue to develop our product. We're in the midst of an exciting stage of research and testing to ensure that our material is performing to our partner's standards.
Where is your kelp from and what are the practices being used?
Our kelp comes from growing partners around the world. It is farmed and harvested in line with strict sustainability guidelines, always complying with local regulations on harvesting, quantities and schedules.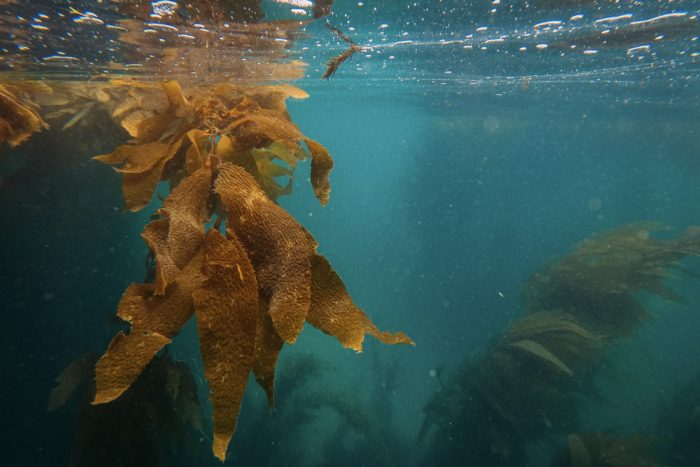 How long does it take for your yarns to degrade?
We're actively exploring the lifecycle of our material and how it degrades in different environments. So much of our energy is currently focused on testing and validating our material's sustainability characteristics with various partners along the value chain. I don't want to speak on exact numbers now, as these can change, but as a whole, we look forward to sharing more information soon.

Why are synthetic fibers so harmful to us and the environment?
Most synthetic fibers are created from toxic, non-renewable petrochemicals. Using polyester as an example, you can trace production back to plastic, usually derived from petroleum.

Synthetic fibers also take hundreds of years to degrade and are generally hard to recycle, which just perpetuates so many of the environmental issues we're currently dealing with. Additionally, because they're usually plastic compounds, synthetic fibers are prone to shedding microplastics. These tiny plastic fibers have been found in our air, water, and in just about every ecosystem in the world. While the direct implications of microplastics are still unclear, the scope of the problem is enormous.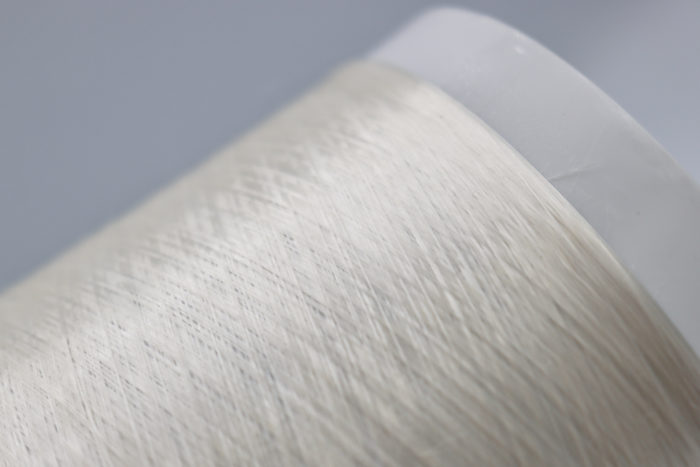 Where is AlgiKnit currently being used?
Thus far, we've been primarily focused on the apparel industry, but we have our sights set on a much broader set of textile applications. So many of the things we interact with on a daily basis are textile-based, or have textile finishes. With sustainability becoming a prerequisite in every industry (not just fashion), we envision AlgiKnit being utilized in several industries wherever textiles have an application.

What have been the disadvantages or challenges associated with this type of biomaterial?
The biggest challenge for us, and really for the biomaterials industry as a whole, is helping consumers understand what a biomaterial is, and why it's important. At AlgiKnit, it's about showing how a seaweed can be transformed into a yarn, and further down the line, a garment. In this way, our focus has always been on education and the demystification of seaweed. You could say it's about contextualizing science in a meaningful way that people can connect with and understand.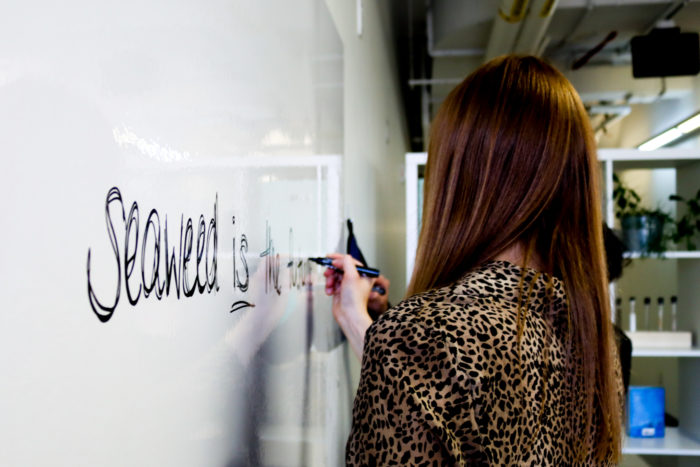 What's next for AlgiKnit? What is the main focus right now?
So many exciting things are happening! As we scale production, we are putting the final touches on our brand new manufacturing facility in the Research Triangle area of North Carolina, which will officially open in June. With this, we are excited to welcome several new additions to our team over the coming months. We also just expanded into a new office in New York, where we will continue to hold a presence.

In other news, our yarn is being featured in the Barbican in London at a new exhibition titled Our Time on Earth, which is on view until August 29th. This exhibit is a huge milestone for us because it marks the first ever opportunity to see our yarn in-person. We've spent so much time on R&D over these past few years, it's really incredible to see all of our hard work come to fruition. And as we look ahead to summer and the rest of the year, we have some amazing announcements in the pipeline that we can't speak on just yet, but we encourage anyone reading to stay tuned.