As the daughter of the founders of natural household good company, Seventh Generation, Meika Hollender is continuing the family tradition of creating consumer products with a conscience. Co-founded with her father, Jeffrey Hollender, Sustain Natural was born to rid reproductive health products of the harmful chemicals and processes that have infiltrated this sector of the consumer market. With an Instagram filled with imagery akin to your favorite style blogger, this company is making its millennial demographic known. It's clear the Hollender family is spearheading the natural consumer product space, but with Sustain Natural, they're also leading a revolution.
There's a lot of focus on your condoms, but you also have tampons, lube and wipes. These products are tackling a lot of things people don't love talking about. Why do you think that is?
Because female sexuality is still stigmatized in this country. Anything related to women and their bodies tends to get pushed under the rug because it's considered taboo. This lack of open and honest dialogue enables a society that is seeing rising rates of STDs, unplanned pregnancies, mass miss-information around sex and periods and products that are filled with unhealthy ingredients.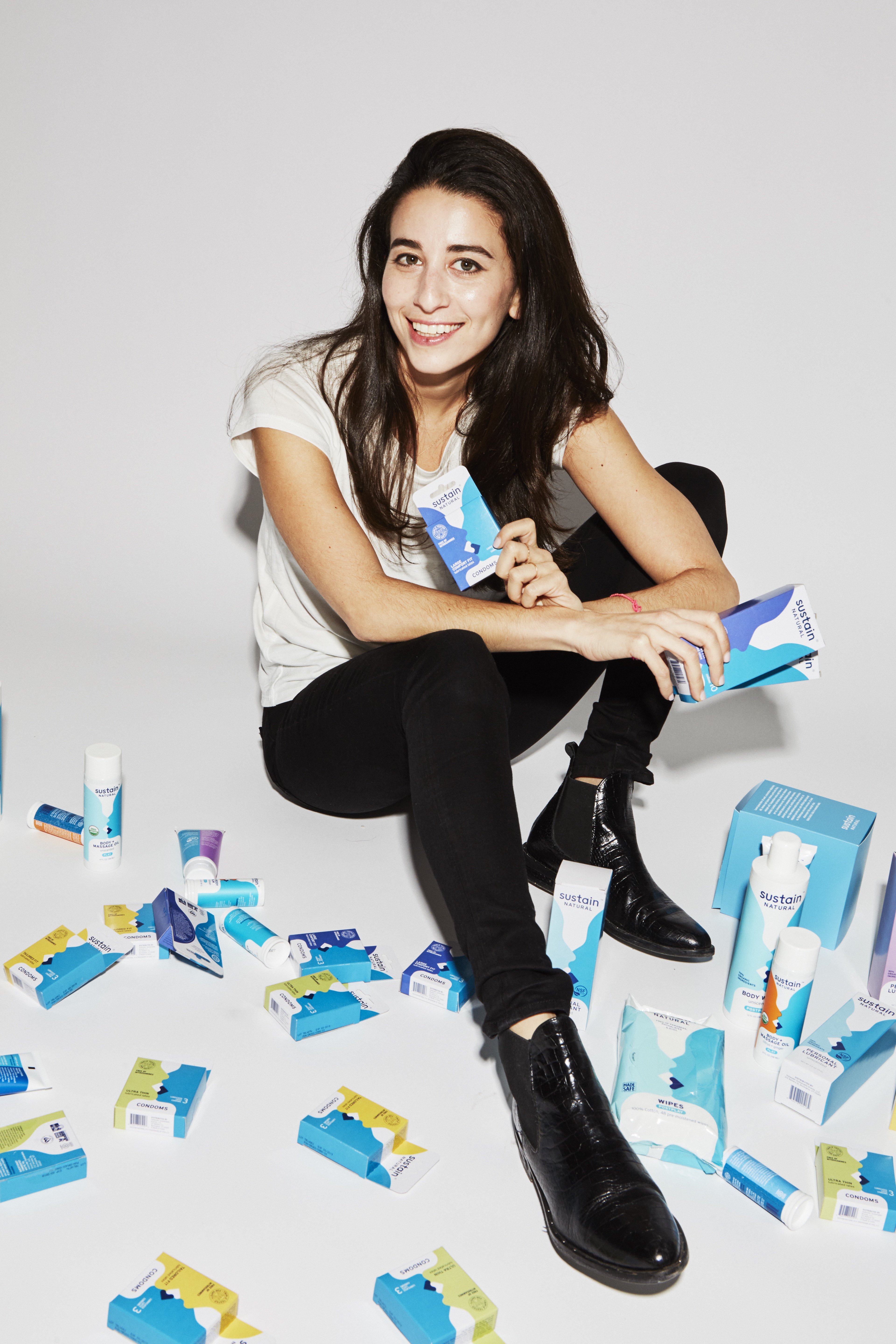 Why do you think we need to continue to talk about natural products and their health benefits?
Your vagina is one of the most absorbent parts of your body. What you put in them matters.
What most women don't know is that there are harmful ingredients in the mainstream brands of condoms, lube and tampons.
Just as you avoid certain ingredients when it comes to your skincare, these same ingredients should absolutely be avoided in products going inside of you.
Let's talk about packaging. Who knew that condoms could be… well, cute? What was the inspiration behind the design?
We recently launched a completely new packaging design with the objective of being something someone, of any gender or sexual orientation, would feel empowered to buy and carry in their bag. There hasn't been much brand innovation in the sexual and reproductive products space, so it was an opportunity for us to change the way we view and talk about sex (and periods). The goal was for our products to not only represent a bigger movement towards sexual freedom, but also to set Sustain apart from the busy, loud and frat-boy competition. It was high time to create a brand that addressed women's needs from a product, packaging and marketing standpoint.
Where do you think the conversation is developing to surrounding women's reproductive health? What do you hope it becomes?
Even before launching Sustain, I came across some incredibly appalling statistics: that 20+ million women lack access to reproductive healthcare in the US. That is not okay and I knew we had to do something about it in a bigger way, especially now in today's political climate where it stands to get even worse.
When there is no access to publicly funded reproductive health services, there are high rates of AIDs and other STDs, as well as those unplanned pregnancies.
So much can be avoided when family planning, sex ed, and basic needs like STD testing and breast examinations are accessible. When women lack this access, they lose, among other grave things, the capacity to decide if and when they want to have children—and even control over their own futures. So, through our dedicated fund 10%4Women which we started at the company's inception, we're donating 10 percent of our pretax profits to women who currently lack this access, especially to organizations like Planned Parenthood.