As we celebrate World Oceans Week, we'd like to highlight the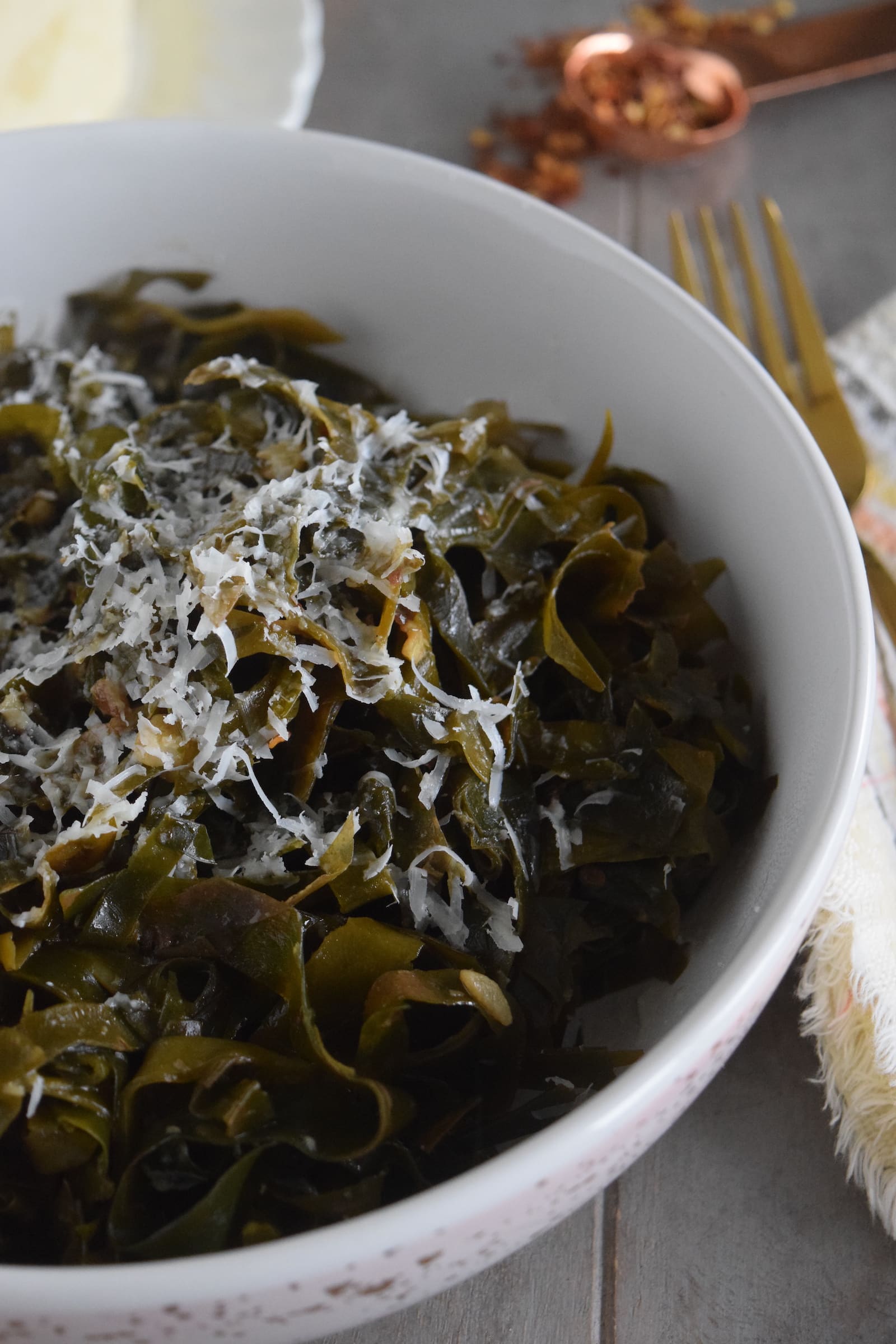 importance of regenerative aquaculture. Regenerative (not industrial) aquaculture can reduce ocean acidification, absorb excess nitrogen and phosphorous and improve the overall health of the ocean. And it's not just healthy for our oceans; it's healthy for us! Courtney Boyd Myers of Akua farms kelp for the production of Kelp Jerky, a nutrient-dense snack packed with vitamins, minerals, omega-3s and antioxidants. Unlike most other food items, the kelp grows without the need for fresh water, dry land, fertilizer or feed. Animal agriculture, one of the top contributors to greenhouse gas emissions, uses 1/3 of our water and 1/3 of our land. Courtney told us the sea vegetable also supports our body's ability to absorb water and is an abundant source of iodine that helps stimulate metabolism. Her Kelp Pasta, another item on the Akua product menu, is kelp that has been noodle cut, blanched and slowly dehydrated. Read on for a few favorite kelp noodle recipes and to learn more about Akua's work, which includes reaching 100% compostable packaging by early next year. —Charlotte DeFazio
What inspired Akua? When did you first fall in love with kelp?
In 2016, I visited my first kelp farm in Connecticut, not too far from where I grew up. I fell in love on that boat trip as I pulled kelp right out of the sea and ate it fresh off the rope.
After that, I started advising the nonprofit GreenWave, helping them to raise funds to provide more training programs for ocean farmers. When I asked Bren Smith, the founder of GreenWave, what he truly needed to support this new industry of regenerative aquaculture, he said, "We need your help creating a consumer market for kelp." So I set out to do just that with Akua.
Why jerky?
We hosted dozens of tasting parties in New York City, Los Angeles, and San Francisco with different chefs, featuring a variety of kelp-based foods and beverages like kelp chips, kelp soups and kelp sodas. We loved our recipes for kelp burgers and soups, but wanted to be an e-commerce company, so a dry, shelf-stable, lightweight (so easy to ship) product would be an important way to get started. After tracking the rise of sales in the meat jerky category, along with the rise in plant-based eating, we saw that there was a gap in the market. A single high-protein, soy-free vegan jerky did not exist on the market.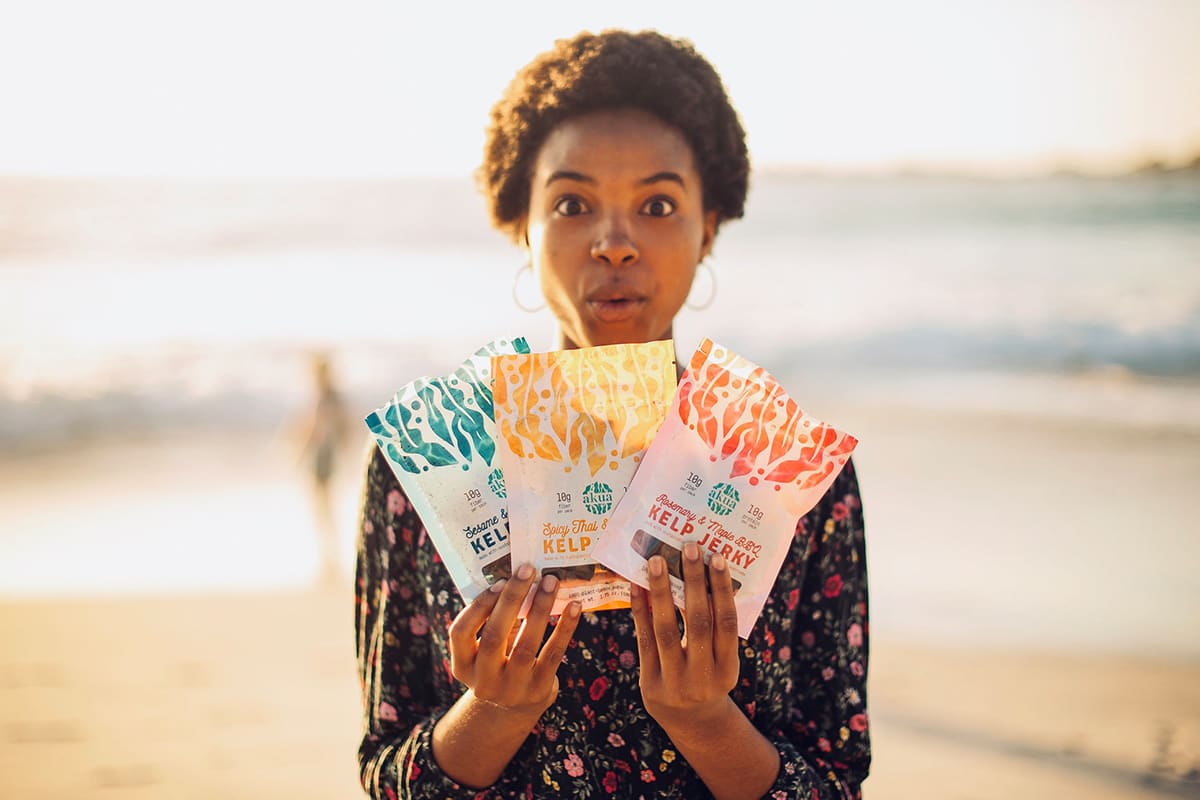 What is the nutritional value in a pack of Akua jerky?
Kelp jerky is a very healthy, nutrient dense snack overflowing with vitamins, minerals, omega-3s and antioxidants. One bag of our jerky has 10g of protein, 10g of fiber and more than 100% of your daily needed intake of iodine and B2 (2mg). It also holds 80% of your recommended B1 (1mg) intake and 70% of your daily iron intake (12mg). Kelp jerky is high in Potassium, Calcium, Vitamin D and Magnesium. All for just 150 calories per bag!
As an added bonus: Kelp supports your body's ability to absorb water and is an abundant source of iodine that helps stimulate your metabolism.
How is kelp farming sustainable?
Kelp farming is so cool. It's beyond sustainable—it's regenerative! While kelp is growing on the farm (up to 5" per day!), it is drawing down carbon and filtering nitrogen from our oceans 5x more effectively than land-based plants, helping to reverse the local effects of ocean acidification. Also, unlike most other food items you ate today, our kelp grows abundantly without the need of fresh water, dry land, fertilizer or feed. All while animal agriculture uses ⅓ of our water, ⅓ of our land, and is the second largest contributor to greenhouse gas emissions in the world.
Tell us about your supply chain.
We source 100% of our kelp from Maine, USA. The kelp used to make Akua Kelp Jerky is from the Salt Point Sisters—a female-owned and majority female-run team behind Summit Point Seafood. Founded by Colleen Francke, Summit Point Seafood is operated with a focus on helping individuals in recovery. Summit Point believes in sustainable and responsible harvesting practices, doing good for our coastlines, cleaning our oceans, supporting their sisters and getting their hands dirty to help themselves, the earth and others.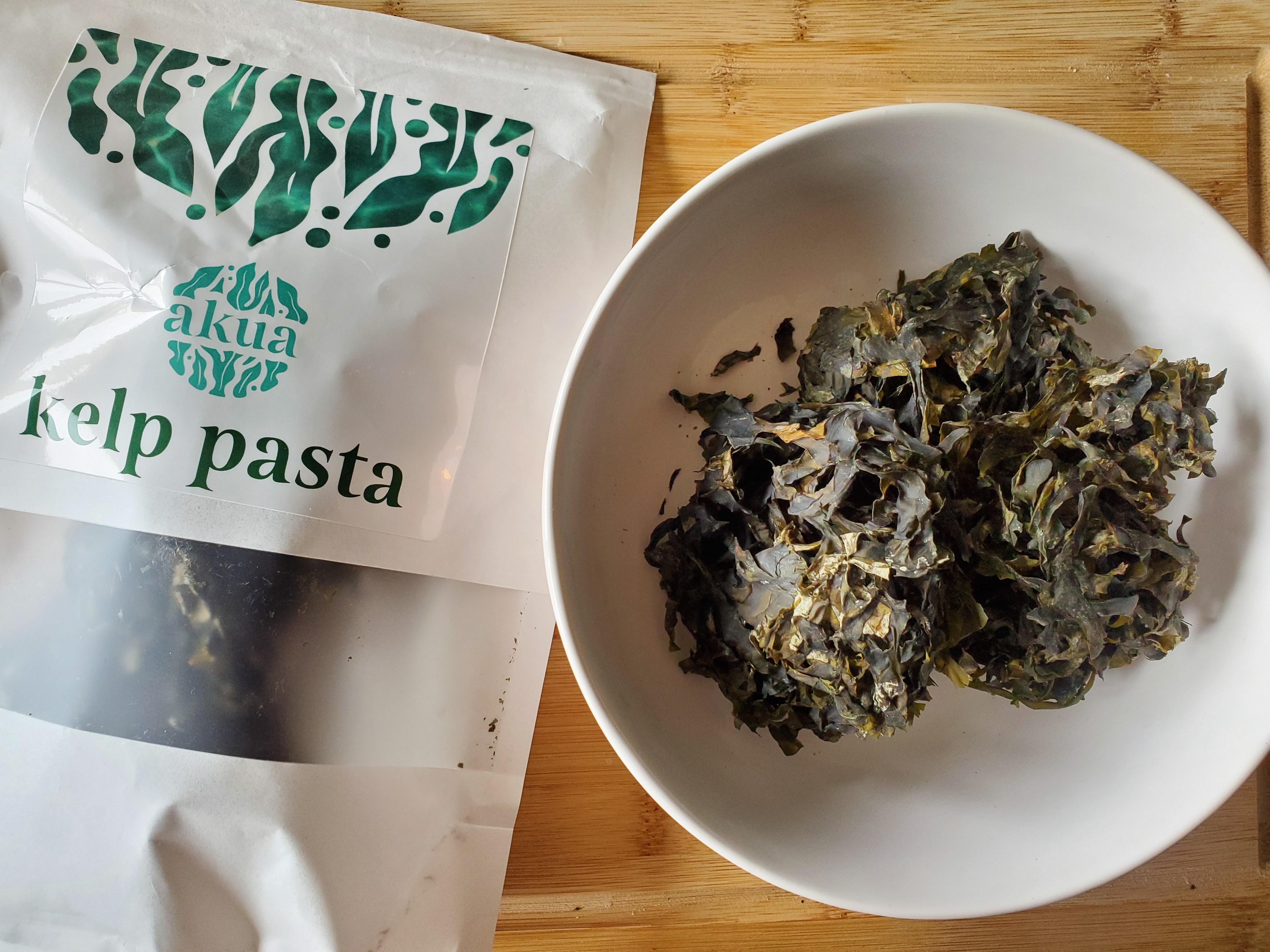 What is Akua Kelp Pasta and what is your favorite way to serve it?
"Kelp pasta" is how I fell in love with eating kelp in the first place—in its simplest and purest form as a sea vegetable that can be added to almost any dish. Our Kelp Pasta is kelp that has been noodle cut, blanched and slowly dehydrated. We dry it in ball shapes so it's easy to determine serving size.
I have so many favorite recipes! When everyone went into lockdown in mid-March, we launched an IGTV cooking show called #SustainableSundays and worked with dozens of our chef friends to feature sustainable recipes, often utilizing Kelp Pasta.
Here are three of my favorites:
Kelp Slaw – We made this for Memorial Day weekend!
Kelp Satay Stir Fry by Chef Aimee Greenacre
Hearty Kelp Bolognese by Alaia Valentina
How close is Akua to using 100% compostable packaging?
We're planning to launch fully compostable packaging at the start of 2021!
What is #AKUAKelpsOut?
#AKUAKelpsOut is a page on our website that documents the quarterly impact work we've done over the years—from organizing charity bike rides for the nonprofit GreenWave to donating to the Rainforest Alliance and Seatrees.
How is Akua different from other kelp snacks on the market?
There aren't many other kelp snacks out on the market! But nori sheets as a snack are a big industry. And the two big differences are that nori is a different type of macroalgae (also very nutrient dense and delicious!) and that about 98% of the edible seaweed on the market today, including nori sheets, is sourced from Asia. Akua sources 100% of its seaweed locally from Maine, USA.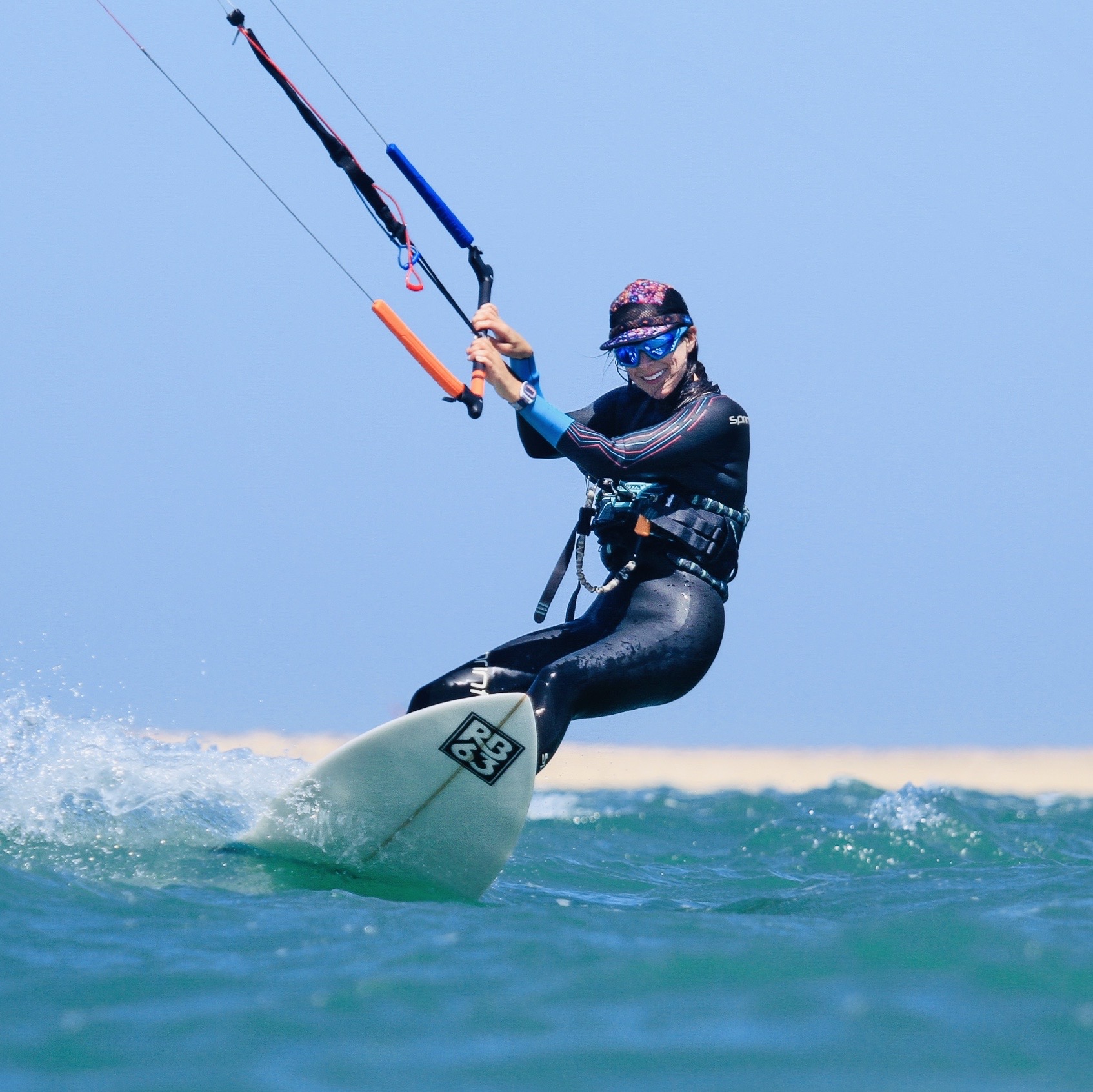 What's your favorite way to spend time with the ocean?
Kitesurfing!