Artist Tess Felix grew up by the sea in California. She built forts out of sand and driftwood as a child; enjoyed beach volleyball and bonfires as a teen; and raised her children on picnics and sandcastles before watching them become surfers. She now spends much of her ocean time walking along the shore, collecting plastic pollution. Over the years, this harmful debris has become the color palette in her portraits. Blue bottle caps, silver flip-flops, white utensils, peach doll arms, yellow rope and red combs—each artwork tells its own story yet presents us with the same daunting truth: look at how much we consume and blatantly discard. Look at how much marine life is suffering. Tess wants viewers to think about this, but she also wants them to know about the many environmental advocates and change makers she depicts like Captain Charles Moore who discovered the Great Pacific Garbage Patch in 1999 and Richard James, author of The Coastodian blog and avid beach cleaner who gifts her with his finds. Tess sparks a conversation in her work that is so crucial for us all to have, from consumers and educators to influencers and legislators.
—Charlotte DeFazio
When did you begin painting with plastic? What initially inspired that?
I began in the winter of 2010 when we experienced a few weeks of severe storms and high tides. I believe the rivers and delta flushed all the plastics out into the San Francisco Bay, and the storms brought plastic in from as far away as Japan. Stinson Beach, where I live, is located 20 miles north of the Golden Gate. The beach was completely covered in bright colors of plastic pollution. I had never realized the ocean had so much plastic in it until this day. The beach looked like a colorful mosaic. I picked up a few bags of plastic and took it home to make a picture out of it, using plastic as my color pallet. The results were not too favorable so I left the picture I made in a small driftwood shelter on the beach. The next morning it was gone so I made another one, and another one…thus beginning my journey of discovery in ocean plastics.
What is your relationship to the ocean? Did you grow up near the ocean?
Yes, I've been near the ocean my whole life. My family lived in Muir Beach California. As a child, the beach was my playground. I'd build forts by digging the sand out from underneath driftwood logs, carving out a space and using the logs as a center beam to add smaller pieces of driftwood to make a roof. I'd spend hours constructing miniature driftwood stick houses with pebbled patios and ponds. I'd make rafts out of washed up wood pallets to float in the lagoon. I swam in the cold ocean and rode my horse along the shore. I'd collect seashells and beach glass and climb on the rocks and day dream. At night, I fell asleep to the sound of the fog horns drifting over from San Francisco. Later as a teenager, we lived for a hot summer day at Stinson Beach—park side hamburgers with fries and a chocolate shake, bikinis, baby-oiled skin, volleyball, bonfires and boys—the beach was the place to be.
I raised my children on the beach with picnics and sandcastles, worries of drowning and watching my children become surfers. I walked my dog on the beach almost every day for seventeen years after the school bus left. Now I spend time walking and collecting plastic that has arrived on the shore. I sit on the beach and watch sunsets, sharing a bottle of wine with friends, and on rare occasion, I'll jump in the sea.
Where do you source your plastic from?
I find most of my plastic on Stinson Beach. I have a friend who spends his days scouring the coast line of Point Reyes National Seashore, which is located just north of Stinson. He gifts me his findings. I collect when I travel to far away lands and ask friends to bring me back ocean plastics when they go away for a beach vacation.
What other materials are used?
I have wood panels made. I paint the backgrounds with either oil or acrylic paint, and use a marine adhesive to adhere the plastic to the board. Sometimes in addition to ocean plastic, I'll use small pieces of found wood or rusty iron. Occasionally, I'll pick something up off the ground if it's an interesting object.
How does your work comment on current social or political issues?
My work is comprised of marine plastic pollution which speaks for itself. It draws attention to the medium, bringing awareness to the viewer by recognizing all the plastic we use and discard in our daily lives. It's a visual reminder that the oceans are in peril. This ties in with consumerism, fossil fuels, fracking and climate change. Coral reefs are dying and ocean temperatures are rising, causing acidification. Marine birds, mammals and sea life are dying from malnourishment and obstructed intestines due to feeding on plastic. Humans are at the top of the food chain, consuming fish, breathing plastic in the air, and drinking toxic chemicals in plastic bottled water. We're all contributing to the decline of the planet with very little awareness of our part in the process. Dr. Sylvia Earle, marine biologist, explorer and author said, "No water, no life. No blue, no green." That pretty much sums it up.
Do you ever create hidden messages in your work by incorporating specific objects?
Absolutely. I look for pieces to add to the portrait that reflect the interest of the sitter. I ask the person I'm portraying for a secret message to add behind the plastic that only the subject and I know exists. This could be a poem, a quote, an affirmation—anything they choose. This gives me something to think about while creating a piece. I borrowed the idea from a Buddhist priest I spent time with learning to paint a Tanka. He told me that Tanka painting was accompanied with prayer, infusing the deity with prayers for the recipient. The last part to be painted is the eyes. When completed, the gaze bestows all the prayers onto the owner of the Tanka. I do my own version of this tradition.
Who are some of the people depicted in your Ocean Eco Heroes series?
My heroes and educators. I felt early on that these people had a louder voice than my own. They are the change makers—activists, writers, educators, filmmakers, artists and musicians. I hoped that by portraying them, it would encourage others to research them and learn about their mission. Captain Charles Moore of Agalitha Foundation in Long Beach, California, discovered the Great Pacific Garbage Patch (North Pacific Gyre) in 1999. He was the first person to sound the horn of the ocean plastic crises. He's an educator, a scientific researcher, a sea captain and a policy changer.
Other portraits include: Stiv Wilson, activist and producer of documentary film The Story of Plastic; Louie Psihoyos, photographer and documentary filmmaker; Beth Terry, author of Plastic-Free: How I Kicked the Plastic Habit and How You Can Too, and the blog My Plastic Free Life; Manuel Maqueda, activist, author, speaker and founder of El Plástico Mata (Plastic Kills) and co-founder of the Plastic Pollution Coalition; Chris Jordan, photographer, artist and film producer behind Albatross; Richard James, avid beach cleaner (my collector) and author of The Coastodian blog; and more.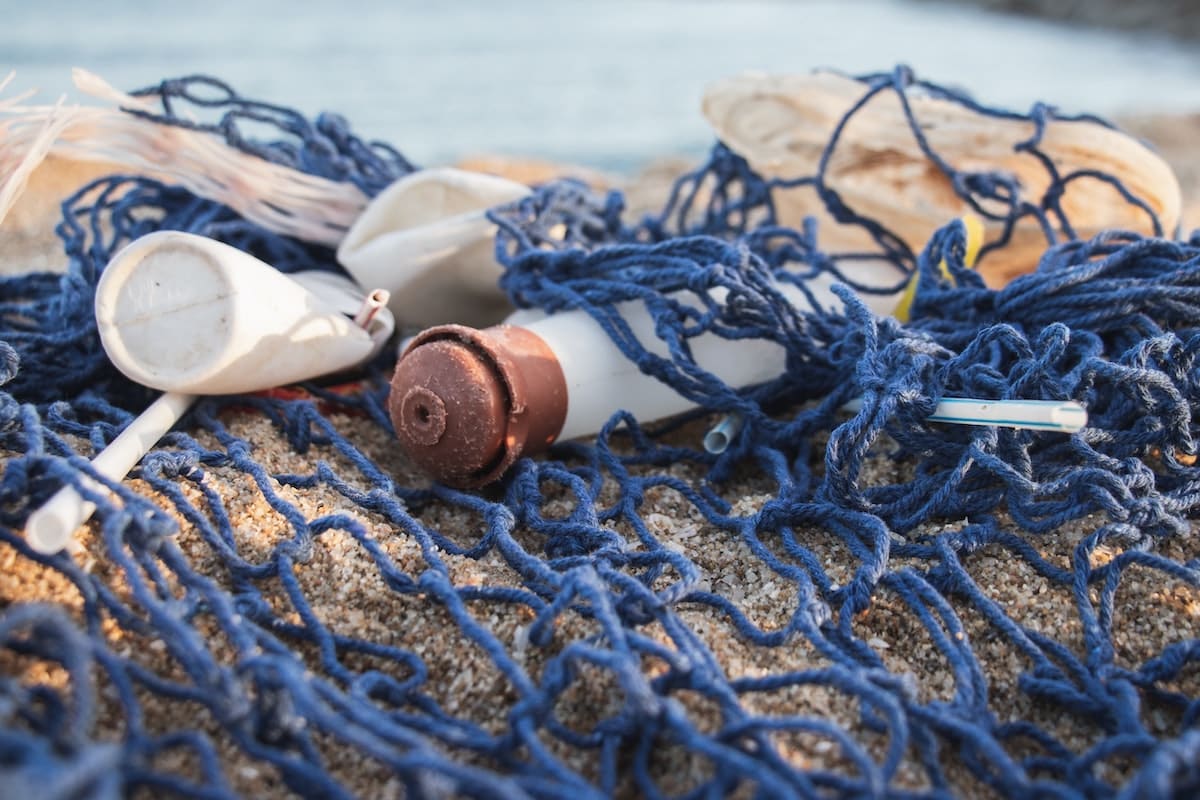 Who are your biggest influences?
My biggest influence in ocean plastic art is the Australian artist, John Dahlsen. I purchased his podcast on how to bring value to your art using marine plastic as a medium. His words validated my use of ocean plastic in my artwork.
In what ways has technology and social media changed the art world?
Technology and social media have created a platform for sharing images and ideas that reaches around the world, connecting people and stories. It has enabled artists to showcase their work without representation from a gallery. For me, it has been a place to find resources, communication and information.
What helps stimulate your creativity?
Travel is number one; people who interest me; and artists.
What is the greatest lesson you have learned thus far in your career?
The greatest lesson I have learned in my career as an artist is that showing up and sharing myself through my art has brought me rewards I never dreamed of. I've met many interesting people and established lasting friendships. It has opened up travel opportunities, taking me to Chile, China, Azerbaijan and Italy. The energy behind the making and the feedback continues to fuel my creativity. It propels me to continue on this creative journey.